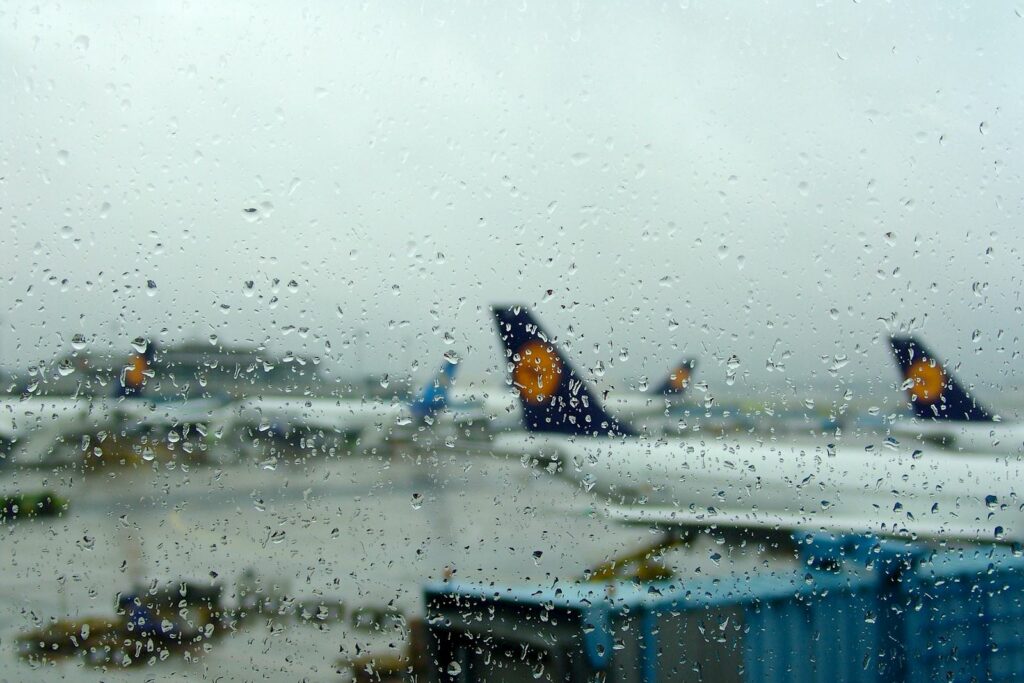 The holiday travel rush is behind us for another year, but there's still a lingering nuisance that can really cause some air travel headaches: bad weather. Winter and springtime are particularly apt for snow, ice, and thunderstorms that can cancel hundreds of flights per event. While we can't change the weather, here are some things you can do to make your life a little easier if the dreaded delay or cancellation occurs.
Check the airline's website regularly. Days ahead at the first forecast of bad weather, pay close attention to your airline's website for travel advisories and flight cancellations/delays. Ahead of major storms, airlines often will issue travel waivers, which allow you to change your travel plans to an earlier or later date for FREE. Instead of showing up at the airport and rolling the dice, if you have some flexibility this gives you peace of mind to avoid the mess altogether.
Know your flight status before heading to the airport. Airlines are usually good about informing passengers of delays and cancellations via email and text if you provide your contact information. If your flight is cancelled, some airlines will automatically rebook you on another flight. Even if you aren't a frequent flier, download your airline's app and have it track your itinerary. This makes it easy to check the status and any changes in your itinerary due to a cancellation. Want to know before you are notified? The airline's app can tell you the status of your incoming flight. Did it depart on time? If not, your flight will most likely be delayed.
Use self-service options when cancellations happen. Travel-savvy passengers can often avoid the long, snaking lines for the customer service counter. Instead, use the airline's app to re-book to another flight of your choosing and basically cut past everyone in the line who will get a seat before you do. Even if the airline has already assigned you a different itinerary, there is a lot of flexibility on your options including adjusting the time or flying on a different date. If the app isn't giving you what you want, consider calling the airline's customer service number and speak to a representative over the phone.
Consider not flying. This only works if your travel is discretionary and you're at your home airport; but you don't have to fly at all if your flight is cancelled. On all fares, the airline will refund your portion of the ticket that hasn't been used if a significant delay or cancellation occurs due to weather. If the new itinerary seems like too much of a hassle, just scrap it altogether.
Avoid sleeping on the airport floor by being proactive. On domestic flights, airlines are not required to provide compensation or accommodations for weather events. This means if you want a bed to sleep in, you need to book a hotel the minute you learn your flight is cancelled, as rooms fill up extremely fast. Use your smartphone to search for hotels near the airport, and if possible save some money by finding a hotel with an airport shuttle. If hotels near the airport are full, you might be able to take a taxi to a hotel downtown or in a more residential part of the city.
Be choosy when booking flights. Bad weather can happen anywhere, but we know that in the spring most storms occur in the late afternoon and evening. Rather book your flights for the morning or early afternoon. It's also very smart to fly direct whenever possible to avoid getting stuck midway in your itinerary. If nonstop isn't possible, try to lean toward layover cities with milder and dryer climates.
Don't take your frustration out on customer service reps. Flight cancellations are frustrating, we get it! But know that the person on the other side of the counter or phone also can't control the weather and is only trying to help. Be kind, and they may be more likely to go out of their way to assist.
"Your flight has been cancelled" is the last thing you want to hear on vacation, but unfortunately it happens. By using these tips, you'll be better equipped to handle the situation in as stress-free a way as possible. Have you gotten snarled somewhere when flying? How did you resolve it? Leave us a note, we'd love to continue the conversation on our Facebook page!