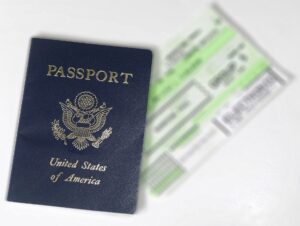 Starting in August, the U.S. State Department is rolling out a pilot program allowing up to 25,000 individuals to renew their passports online rather than through the U.S. mail. People who meet the requirements can sign up on a first come, first served basis. August filled up fast, but there may be opportunities to renew online in September or into the future. Depending on how the pilot unfolds, this may become a permanent option. Many may have let their passport expire over the last few years and this could be a convenient option if certain requirements are met. What are the requirements and the pros and cons of renewing online? We outline below.
Am I eligible to renew online? It depends on a number of factors, all of which can be viewed on the U.S. Department of State website containing the latest information. A few key highlights that cover many situations:
Your most recent passport was valid for 10 years, and you are age 25 or older
Your passport was issued more than 9 years ago but less than 15 years ago. It is acceptable if your passport is expired.
You are not making any changes to your name or other key information.
You are currently living within the United States or a U.S. Territory
How do I renew online? If you meet all requirements, you first must set up a MyTravelGov account. If there is a link to renew your passport, it means you may be eligible to renew. If there is no link, the pilot program's limit has been reached for the month and you can either renew the traditional way or wait until next month's list opens.
What are some of the pros of online renewal? Several countries including Ireland and the U.K. already have online passport renewal in place and the process is relatively streamlined. It also reduces headaches associated with paperwork, lost mail, and postage costs. Just like a standard passport renewal, you can request either regular or expedited processing. You can also change your address and upgrade to expedited processing midstream as long as your application hasn't been approved yet.
Potential pitfalls of online renewal. While other countries report smooth processing, going online of course means an elevated risk of security breaches versus using paper and U.S. mail. Importantly, the speed of processing is exactly the same for both standard and online renewals, so there is no time gained other than the convenience factor. You'll also need to upload an approved photo in a JPEG format, so folks who aren't overly tech savvy might find the traditional renewal option easier.
Other information to know. If applying the traditional way, you'd submit your current or expired passport in the U.S. mail with your application. With online renewal, know that your most recent passport will immediately be invalidated when you submit your application, and you cannot use it for international travel. That said, your current passport must be in your possession and not mutilated, lost or stolen. Fees for online renewal are the same as the traditional method.
Online passport renewal may become the norm in the U.S. pending the pilot program. There are pros and cons to consider if you wish to participate in the pilot. If you don't meet the requirements, or have hesitation to the potential pitfalls, know that traditional mail renewal is still the main way to renew.