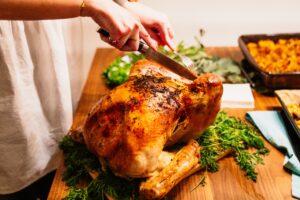 Holiday travel is upon us once again. While Thanksgiving and Christmas bring joy, connection with family/friends and nostalgia, traveling to our seasonal gatherings can be stressful, particularly if navigating air travel. From frenzied travelers to longer-than-usual lines, flight delays and weather have the potential for added drama. There is hope, however! By remaining proactive and following a few simple tips, you can help relieve some of the stress associated with air travel and arrive at your destination refreshed and in the holiday spirit.
Reserve your parking. If you don't live where you can Uber/Lyft to the airport and avoid parking fees, then by all means reserve your spot in advance. Many airports and private parking lots with shuttle service allow this and some will even offer a discount if you do so. Save yourself some hassle by knowing you have a spot booked in advance.
Allow plenty of time. Thanksgiving and Christmas are not the time to tempt fate by showing up to the airport at the last minute. We always recommend arriving at the airport at least 2 hours prior to a domestic flight, 3 hours for international and this is particularly true during the busy travel days. Plan for longer lines to check bags and clear security, as families will be checking larger-than-usual bags containing gifts and navigating unfamiliar security procedures with the kiddos. Also remember, the departure time on your ticket is the time the plane plans to be leaving the gate, not when boarding begins. Most domestic boarding procedures start 30-40 minutes beforehand and end well before the posted departure time.
Connections. We say this over and over; fly direct, period. It's worth the possible little extra to avoid the potential of something going wrong. Realizing this isn't always an option, we recommend 2-3 hours for layovers. While an airline may be willing to discount a ticket with a tight connection, you'll risk missing your flight or your bags not transferring to your destination as planned. If everything runs smoothly, you can spend your layover enjoying a nice lunch.
Prepare for security. Besides the regular security procedures which you can read about on the TSA website, keep gifts unwrapped through security so they can be easily searched as needed. Plan to wrap them at your destination or think about shipping them ahead of time. Well before traveling over the holidays, also consider enrolling the family in services such as TSA Pre Check which usually expedites the security screening. Just make sure each airline you'll be flying knows your Known Traveler Number (KTN), which your travel consultant will add when issuing tickets.
Download your airline's app. The easiest way to request wheelchair assistance, check in, track bags, and display your boarding pass is through your smartphone. If there are any hiccups with flights, you can also quickly see flight status and rebooking options in the app. Even if you only fly occasionally, consider signing up for the airline's mileage program when you download the app. There is no downside to doing so, and miles can add up for perks and free flights even for infrequent travelers.
Reserve airport transfers. If you don't have someone to pick you up when you arrive at your destination, it's a smart idea to reserve your transfer service in advance. While it's tempting to rely on rideshare services, know that surge pricing will likely be in effect for Uber and Lyft. Instead, use a vetted service and know you'll have reliable transportation upon arrival at a pre-set price.
Prepare for the unknowns. Being a little proactive can make travel a breeze even when the inevitable hiccup does occur. For example, if you're cruising over the holidays don't plan to arrive the same day as your ship's departure; instead, build in a buffer day to explore your homeport city. In case of delayed bags, pack essential items you can't live without in a carry-on such as medication, phone chargers, and a quick change of clothes. For all travel, being proactive, flexible and "rolling with the punches" can make a big difference between a smooth travel experience and a miserable one. Importantly, stay patient with employees and fellow travelers!
By following these simple tips, you'll be ready to celebrate this year's holidays with family and friends refreshed and in the holiday spirit.