Cruise to the "End of the World"!
Drum roll please as we announce our next amazing opportunity selected by Tom Koranek himself:
Santiago, Chile to Buenos Aires, Argentina February 24th to March 10th, 2023 – 14 nights onboard Holland America's Oosterdam
We will also offer a 2-night pre-cruise small group wine tour in Santiago, Chile. Speak to Denise for package inclusions and pricing.
Reserve your spot early! Contact Denise for further info.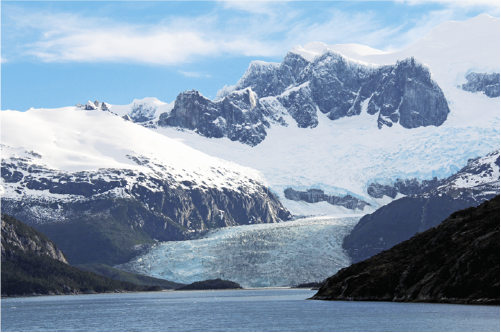 "Join Denise and me as we experience one of the last relatively untraveled areas of the world! This trip offers an entirely different experience focusing on the natural beauty, spectacular glaciers, mountainscapes, virgin forests, abundant bird species and sea mammals.
Forget about camping out in the cold because a cruise is the only way to reach these icy and remote landscapes. Kick your boots off and relax with a glass of Chilean red after a day of doing as much or as little as you wish as you watch the stunning scenery pass by.
We'll do so near the end of South America's summer season from the comfort and luxury of Holland America's Oosterdam, a mid-sized, spacious ship."
~Tom Koranek
South American Cruise 2023: Highlights of the Trip (Part 1)
South American Cruise 2023: Highlights of the Trip (Part 2)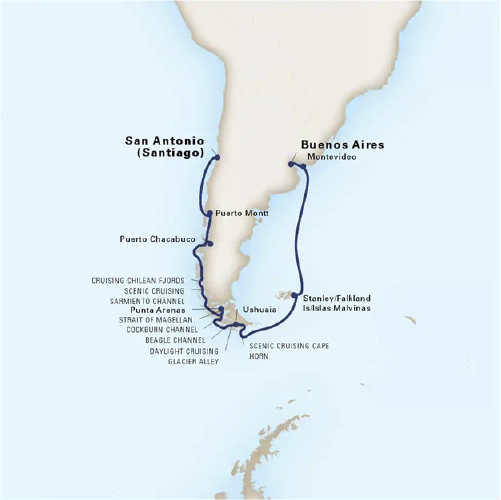 Highlights include:
Eight ports of call-
• Santiago, Chile • Puerto Montt, Chile • Puerto Chacabugo, Chile • Punta Arenas, Chile • Ushuaia, Argentina • Stanley, Falkland Islands (British territory) • Montevideo, Uruguay • Buenos Aires, Argentina
67 ship excursions offered, some Highlights are-
• Winery tours • Trout fly fishing • Horseback tours • UNESCO sites • Exclusive dinners/Tango shows • End of the World Train • Tiera de Fuego Nat'l Park • Torres de Paine Nat'l Park* • Iguazu Falls* • Argentina pampas "ranch life" • German communities settled in the 1850s w/ Black Forest background • King crab fishing/Gourmet cooking experience • River rafting • Food/wine tours
*Requires air flight
Excursion transportation-
• Horseback • Speedboat • Slow boat • Kayak • Catamaran • River rafting • Bicycle • Hiking • Bus • Van • Auto
What You'll See:
• Chilean Fjords
• Sarmiento Channel
• Strait of Magellan (Discovered in 1520)
• Cockburn Channel
• Beagle Channel (HMS Beagle & Charles)
• Darwin's Exploration ~ 1830
• Glacier Alley
• Cape Horn
• Bird Island
• Sea Lion Island
• Falkland Islands
Wildlife Viewing: Just the tip of the proverbial iceberg..
Birds- Penguins! Penguins! Penguins! King, Gentoo, Magellina, RockHopper and numerous species of fascinating, colorful birds including albatross and S.A. condor.
Sea Life: Dolphins, Humpback whales, Elephant seals, Sea lions
"This is clearly a much more relaxing vacation than a hectic European agenda of museums, castles, battlefields and architecture. There is fascinating history here as well, but we will actually retrace the route of those fearless explorers from 500 years ago. One can fold in as much or little activity as you like and still enjoy the raw beauty of nature and multitude of wildlife with this end of the world phenomenal experience.
For more information or to chat with myself or Denise give us a call at 817.442.5398 or Email Denise (Denise@SunsetVacationsTravel.com). Grab your Verandah stateroom now with a refundable deposit!"
~ Tom Koranek
Feb 24 SANTIAGO, CHILE (VALPARAISO) Depart 5:00 PM
Feb 25 AT SEA
Feb 26 PUERTO MONTT, CHILE – 8:00 AM 5:00 PM
Feb 27 PUERTO CHACABUCO, CHILE – 11:00 AM 7:00 PM
Feb 28 Cruising CHILEAN FJORDS
Mar 01 Scenic Cruising SARMIENTO Channel
Mar 02 STRAIT OF MAGELLAN
Mar 02 PUNTA ARENAS, CHILE – 6:00 AM 6:00 PM
Mar 02 COCKBURN CHANNEL
Mar 02 BEAGLE CHANNEL
Mar 03 Daylight Cruising GLACIER ALLEY
Mar 03 USHUAIA, ARGENTINA – 12:00 PM 8:00 PM
Mar 04 Scenic Cruising CAPE HORN
Mar 05 PORT STANLEY, Falkland Islands – 8:00 AM 6:00 PM
Mar 06 AT SEA
Mar 07 AT SEA
Mar 08 MONTEVIDEO, URUGUAY – 8:00 AM 6:00 PM
Mar 09 BUENOS AIRES, ARGENTINA – Arrive 8:00 AM
Mar 10 BUENOS AIRES – Disembark
Suite – starting at $5474 per person/double occupancy
Verandah – starting at $3774 per person/double occupancy
Unobstructed Window – starting at $2874 per person/double occupancy
Inside/ No Window – starting at $2574 per person/double occupancy
Pricing includes the following and is subject to change until booked and deposited:
Port charges, taxes and fees
$200 in Shipboard credit per stateroom
Reduced Deposit
Pre-paid Stateroom Gratuities onboard
Signature Beverage Package
Two Specialty restaurant dinners
$200 pp in Shore Excursion credit (to use on 2 excursions)
Wi-Fi Package
And of course all meals and shipboard entertainment/education
Please contact Denise for current availability and to secure this unforgettable adventure!