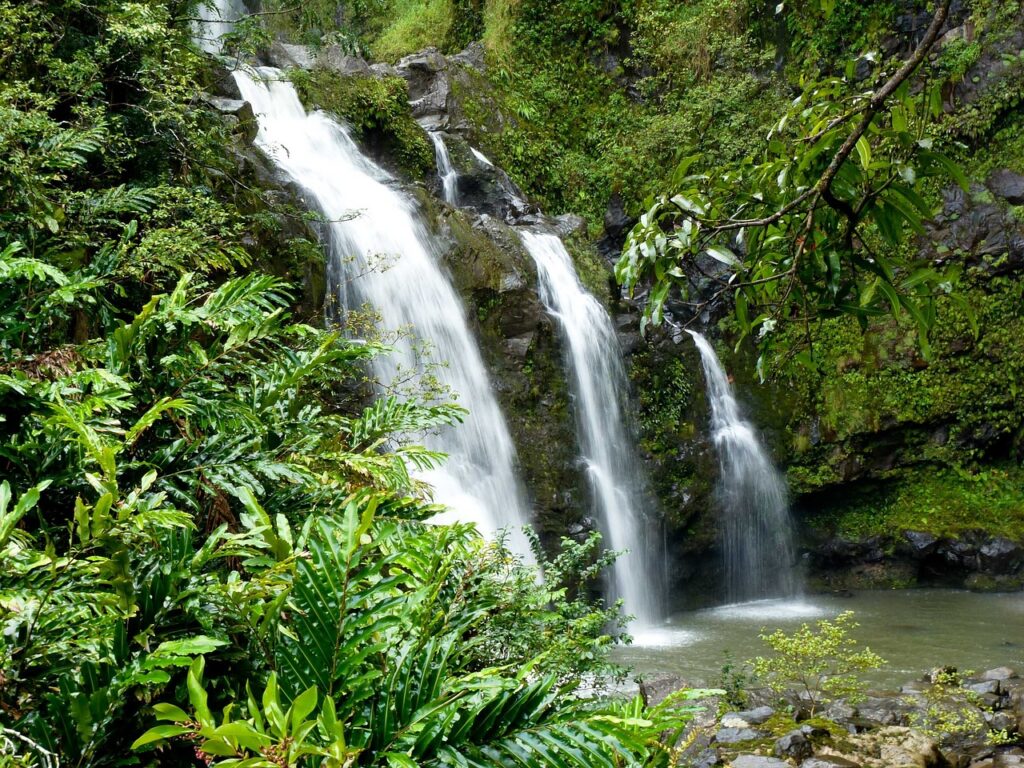 When visitors think "Hawaii," their mental images are generally centered on sun, surf, and sand. Yet Hawaii—especially the Big Island—is also an excellent place to hike. The Big Island boasts beautiful waterfalls, complex and changeable ecosystems, high mountain peaks, volcanoes and rainforests. Looking for a hike to add to your beach pleasures? We have 5 short hikes on the Big Island, Hawaii for your walking and viewing pleasure.
Start off gently with the Akaka Falls Loop. At just under one-half mile, this is more of a paved path than a hiking trail. You'll start slightly north of Hilo on the Big Island's eastern side. Akaka Falls Loop will lead you through a rainforest. You'll see orchids, ferns, and bamboo groves.
The waterfalls are not to be missed whether you're a meanderer or not. Akaka Falls Loop leads you to Kahuna Falls, a spectacular 100-foot-high plummet of water. Even more spectacular is the next one, Akaka Falls itself, 442 feet of rainbowed beauty off the side of a cliff. This is an easy hike with an enormous return!
Kalopa Nature Trail is equally gentle although slightly longer, at 0.7 mile. Enter the trailhead near Honokaa, roughly 40 miles north of Hilo. You will be walking at 2,000 feet, so be sure to dress and prepare appropriately. This too is wet, which results in dense growth of ohia trees and ferns, which look as if magical beings live here.
The Pololu Valley Trail is 1 mile total, going out to the ocean and coming back. Pololu Valley Trail can be found at the end of Highway 270. What will you see here? Cliffs going down to the ocean, a sight to behold. You can also see evidence of Hawaii's volcanic activity in the black sand beaches of Pololu Valley. The ocean here is not advisable for swimming: the currents are strong and can be treacherous. Going down is easy but take your time coming back up the switchbacks.
The next two hikes are in one of the most scenic parts of the Big Island, Hawaii Volcanoes National Park, where is it possible to see lava that has added significantly to the land mass of the Big Island over the last 4 decades. The Park extends over 330,000 acres and boasts 150 miles of hiking trails.
Check out Kipukapuaulu Loop Trail in the Park for a walk that leads you through forests and lets you gaze on lava from Mauna Loa, a volcano that erupted steadily for almost 200 years until it stopped in the 1980s. At just over 1 mile, Kipukapuaulu Loop Trail will lead you through a forest containing rare plants, trees, and a stellar variety of birds. The U.S. Park Service has a helpful map enabling visitors to identify the trees and plants.
Our second recommended hike in Hawaii Volcanoes National Park is the longest, 4-mile Kilauea Iki Trail. This is one of the most popular hiking trails in the Park, and you'll see why. It's in a gorgeous rainforest, first of all. Second, the walk down into Kilauea Iki crater shows visitors steaming vents and spectacular rock formations.
You will be at an elevation of 4,000 feet in Hawaii Volcanoes National Park, so visitors should dress appropriately. (Layers and rain gear are advised.) Many vistas are incredibly scenic and photo worthy, so be sure to bring a camera.
Because of the time it takes to get around the island, we suggest you split your stay between the Kona side and the Hilo side of the Big Island so you can see and do the most during your stay.  
We'd love to help you craft your adventure in Hawaii! Contact us today to get started!