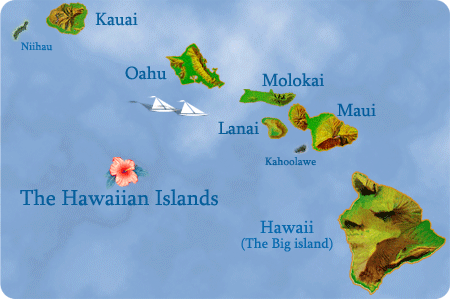 Effective March 26th, U.S. travelers heading to Hawaii will no longer need proof of vaccination or a negative COVID-19 test before their departure to avoid a mandatory 14-day quarantine. This is great news for travelers as we continue to move forward in our new normal. Plus, unlike going abroad, no test is required to return to the U.S. mainland. Visiting Hawaii is on the bucket list of most folks, and in 2022 Hawaii is expected to be a top travel destination. The Aloha State is a diverse place where each island has its own flavor of culture, activities, and sightseeing. Which island is the perfect fit for you? We'll go from northwest to southeast as we explore this unique and beautiful state.
Kauai: The oldest and least developed of the Hawaiian Islands, Kauai offers some of the most breathtaking and iconic views in the state. This is the ideal place for outdoor enthusiasts and romantic vacationers, with more than 60 beaches surrounded by lush mountainsides. You'll find great snorkeling and perfect conditions for all kinds of water sports, as well as hiking and the chance to tour old sugar plantations. If you're a movie buff, you won't want to miss the beautiful Napali coast where Jurassic Park was filmed or Hanalei, home of Bethany Hamilton of Soul Surfer. Kauai is not as populated as Oahu, the Big Island, or Maui, but it is just the right size to combine island magnificence with local charm and Hawaii as it used to be. Fun fact: there are an overwhelming number of feral chickens on Kauai. So much so that the local saying is "Don't forget to take one home with you!"
Oahu: Oahu is known as the "gathering place" and is home to the state capital of Honolulu. Here you'll find thriving nightlife, upscale resorts, and big-city vibes. Spend time relaxing along the world-famous Waikiki Beach, or if you're feeling adventurous, touch the waves firsthand with a surfing lesson. A tour of Pearl Harbor also is an incredible experience while in Honolulu, as are the city's many Polynesian-inspired restaurants and top-notch museums. Combine this with scenic craters, endless beaches, and the quieter beauty located on the rest of the island and you have the perfect vacation spot for the tourist who wants to be in the middle of the action while still taking in the scenery.
Molokai: On Molokai, you get the chance to step back in time and experience the Hawaiian culture as it has been for centuries. You will find no traffic lights, skyscrapers, or big cities here. Many locals have worked to keep it this way, resisting the large-scale tourist development found elsewhere. So, if you prefer a slow and relaxing vacation, you will love the smaller local hotels, bed and breakfasts, or condominiums on Molokai.
Lanai:  With a population of only around 3,100, Lanai is the island to visit for those in search of a quiet, tranquil vacation. Home to world-class resorts that provide the ultimate standard of luxury along with exquisite spas and amenities, you can watch your worries float away over the azure ocean. The entire island used to be a pineapple planation, giving its nickname "Pineapple Island." Just like Molokai, no traffic signals are to be found.
Maui: Many first-time visitors to Hawaii choose Maui because it offers the perfect mix of scenery, gorgeous sand, and just enough restaurants and culture to make your stay comfortable without interfering with the natural beauty. Maui has an incredibly diverse landscape and microclimates, resulting from the island's topography. Visit the west end of the island for soft, powdery beaches, or ride the beautiful Road to Hana to sink your toes in a black sand beach, a true beach lover's paradise. There are also over 30 beaches and bays on the island that offer perfect snorkeling conditions, one of the most popular activities on Maui.
The Big Island of Hawaii: If you are adventurous, this is your island. You can stand in the snow AND walk on a tropical beach all in a single day here! The Big Island is wild, home to the state's only active volcano. Can you picture yourself hiking out to view lava flows at Hawaii Volcanos National Park, or see Mauna Loa, the island's 13,677 foot tall mountain up close? The beautiful black sand beaches, rainforests, snorkeling, golfing, and exploring the historic villages will also keep you moving. Finish your active vacation with surfing, horseback riding or climbing a waterfall.
Whatever you do, make sure you attend a luau on the island you decide fits your idea of a dream vacation. In 2022 the key is to plan ahead as some capacity restrictions still exist. Can't decide which island to visit? We work with a variety of top cruise lines that will make visiting several of Hawaii's islands both luxurious and effortless. For both land-based and ocean-based packages, you can't go wrong with a refreshing romantic, family, or group getaway here.