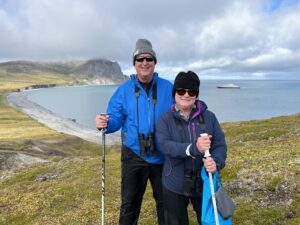 Thank you, Denise for your 3-year effort to realize our long-planned Scenic cruise. Even before our cruise set sail, your guidance was so helpful regarding COVID protocols, Canadian access forms and luggage options. You were always accessible and ready with required information, forms instruction and "inside knowledge". Not many travel consultants would reach out directly to the Anchorage Chamber of Commerce to challenge them about their less than sufficient COVID testing availability. When we were challenged with luggage transfer concerns, you recommended a direct shipment service which worked perfectly and greatly reduced our stress. Your attention to detail is impressive!
Now for our amazing cruise. What started as a group trip on a Rhine River cruise that was delayed for two years, resulted in a fabulous Alaskan cruise aboard a Discovery Yacht.  The yacht was absolutely fantastic. Every cabin was a suite with butler service and a one-to-one crew to guest ratio. Our trip began with a chartered flight for the guests from Anchorage to Nome, Alaska, where we were able to view musk oxen prior to boarding the yacht.
We were initially concerned about how we would handle 15 days on a cruise yacht, but Scenic made it work so well that it was hard to believe when it was over.  The food was fantastic, with 6 restaurant choices that changed their menus every 3rd day, as well as in-suite dining.
However, what made the experience so incredible were the excursions coordinated by the Discovery Team, a group of 20 onboard scientists who in addition to planning and leading excursions did daily educational sessions in the yacht's theatre. The unique excursions did not hit tourist locations; rather, we experienced beautiful remote locations and were able to immerse ourselves with each destination's cultural highlights. We arrived at St. Matthew Island by Zodiac watercraft where the accompanying photo was taken. Our cruise was only the second ship in three years to visit St. Matthew Island. The island's human population is zero but the native bird population is in the tens of thousands.  We also spent a day in Kake, Alaska. Most of the 450 locals are native Tlingit. We had the privilege of learning about their rich culture from one of their elders.  Other excursions included Dutch Harbour and the Bunker Hill World War II site, Kodiak Island, Homer, Seward, Wrangell, and of course cruising Hubbard Glacier for over an hour.
Because the trip was on a Discovery Yacht, anytime whales were spotted the travel was put on hold for an hour in order for us to just "hang with" and photograph the whales. In Homer, we were divided up and spent 45 minutes on zodiacs to get up close to sea otters, porpoises, and seals.  Each day of our cruise was a new adventure and many, many cherished memories were created.
Denise, we want to thank you again for your patience, expertise and superior customer service during our almost 3-year saga. The trip exceeded all expectations! ~ Gary and Robin, Southlake, TX