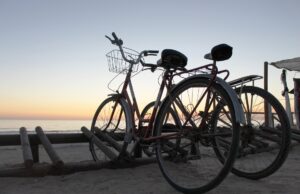 Traveling is the ultimate way to escape from your ordinary routine. But it also comes with being exposed to many people from all over the world, including on your flight, at the hotel, restaurants, and during tours. The last thing you want is to be sick during your highly anticipated vacation; therefore, focusing on your health before, during, and after your trip is key. Here are some easy ways to help keep healthy and feel great throughout your adventures.
Put the pressure on. Compression stockings (tight-fitting, knee-high socks) are not just for the elderly. They prevent blood from pooling in your lower legs decreasing the risk of DVT (deep vein thrombosis), a dangerous condition that afflicts some air travelers on long flights. BUT they also make your legs more relaxed and less tired when you land.
Sanitize your space. Yes I am that person!  It's a good idea to bring a supply of sanitizing wipes when you travel. Wipe down your seat, armrest, air vent, and tray table at boarding. They also come in handy once you arrive to clean your hands before eating and wiping down dirty surfaces you may encounter. It's a quick and easy way to reduce the chance of getting sick.
Drink water. The dry air during flying is inherently dehydrating. So stay hydrated by drinking water before and during your flight. Especially for longer flights, buy a water bottle at the airport prior to boarding so you don't have to rely on the seldom seen beverage cart. Remember, if you are feeling thirsty, you are already dehydrated.  Consider nixing the coffee and alcohol. Not only are these dehydrating, they can make jet lag worse by impacting your sleep.
Vitamin packets in water. Speaking of water, take packets of Emergen-C, Airborne or a similar drink mix and pour a minimum of one per day into your water to boost your immune system.
Get plenty of sleep. If you arrive at your destination well-rested, you'll be in a better state of health to start your vacation on the right track. We get it, though – it's tough to sleep on the plane. Don't count on the airline to provide a silk eye mask, ear plugs, or a blanket. Bring your own! A neck scarf can substitute for a blanket. Also consider noise-cancelling headphones. Getting extra sleep during your travels will increase your immunity to ward off illness. Being in a new place and having so much fun is more tiring than being close to home.
Eat healthy food. Throughout your getaway, you'll encounter a ton of dining options. Incorporate some healthy food each day to feel more rejuvenated. Airplane food isn't the healthiest (laden with salt) so bring a protein bar, nuts or dried fruit to help supplement it. Packaging where you don't have to touch the food is wise. Consider eating a healthy meal prior to boarding while at the airport. And during your stay at your destination, keep fruits and vegetables in mind as side dishes.
Dress in layers. Throughout your journey, you never know exactly what the temperature will be. From the flight being freezing cold or way too hot, to ever-changing weather at your destination. Dressing in layers gives you flexibility regardless of how the temps fluctuate.
Exercise. Instead of diving into your comfortable resort bed or heading for a lounge chair at the beach, do some walking or exercising when you first arrive. Maybe it's scheduling a yoga class, going for a brisk walk around the city, or swimming some laps at the pool. After being cooped up on the plane, getting the body moving is energizing and motivating.
There's no sure-fire way to avoid getting sick while traveling. Small, easy choices can make a substantial difference to stay healthy and feel great during your trip and upon your return. Do you have any suggestions for keeping healthy during travel? Leave us a note on our Facebook page.