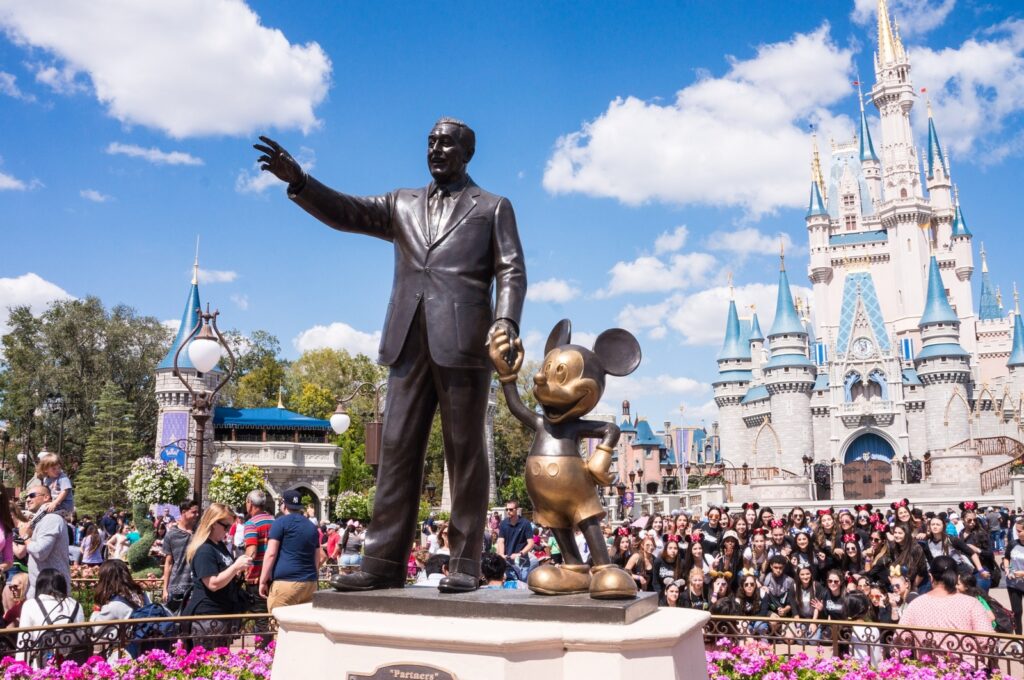 If you've never visited Disneyland (Anaheim, California) or Walt Disney World (Orlando, Florida), you might assume that both locations are basically the same. The reality is a bit different – while you will find many of the same attractions, Disneyland and Walt Disney World each offer a decidedly unique type of vacation. Folks have strong opinions about whether "Land" or "World" is better, but we're here to tell you that both are great in their own ways. Therefore, figuring out whether your family would have a better vacation heading west or east comes down to your travel style and timeline, and what specific attractions you want to see. If you're ready to experience Disney magic this year, here are the top things to keep in mind when considering which property to visit.
How much time do you have? Walt Disney World has four parks: Magic Kingdom, Epcot, Hollywood Studios, and Animal Kingdom. The resort is huge and diverse, spreading across 43 square miles (the size of San Francisco!) and offers a ton of other activities including golf, water sports, 2 water parks, and shopping galore. To see it all you need well over a week, for shorter trips you'll have to decide on what's most important for you and the family and prioritize. If your timeline is limited and having to weed out attractions sounds stressful, you may want to consider Disneyland at only 500 acres and two parks: Disneyland Park (similar to Magic Kingdom in Florida) and Disney's California Adventure. You can tour all of Disneyland in about 3 days.
Things to Do versus Convenience Factor: Without a doubt, Walt Disney World offers more activities, dining, and rides given its four parks, and its size means a more immersive experience. There also are over 25 Disney-owned hotels on the property, all connected by easy-to-navigate bus, boat, or monorail routes. With size comes some travel time – you'll need to allow for at least 30 minutes getting to and from your hotel, as well as from park to park. Because Disneyland is more limited in scope, the three on-site hotels are minutes away from the monorail and are also within easy walking distance to the front entrance, allowing for a quick midday nap or swim back at the hotel. You'll also log less miles at Disneyland as walking from the middle of Disneyland Park to the middle of Disney's California Adventure takes only about 15 minutes.
Rides: As far as major attractions go (think Space Mountain, Haunted Mansion, Pirates of the Caribbean, and It's a Small World – to name a few) – you'll be covered in both Florida and California. While there certainly are more rides exclusive to Walt Disney World, some people are surprised that Disneyland has unique headliners as well, such as Radiator Springs Racers in Cars Land and Indiana Jones Adventure. For Star Wars fans, know that both properties are getting the highly-anticipated themed area Star Wars Galaxy's Edge in 2019.
Crowds and Climate. Walt Disney World and Disneyland offer early entry privileges for on-site hotel guests, a huge perk to experience the most popular attractions before the crowds arrive. Both also have FastPass systems which, when done correctly, will help minimize the time standing around in line. In general, crowds may not feel as intense at Disney World because there's more room to spread out, but wait times are generally similar. However, Disneyland's location in the middle of Anaheim means that the locals' work and school schedules will have a more direct impact on crowd sizes there. In terms of climate, sunshine is the name of the game at either resort, but you're more likely to encounter an afternoon thunderstorm and high humidity in Florida, especially in the summer.
Do you want to "see it all" at Walt Disney World and have the time to do so? Or does the more intimate and nostalgic feel of Disneyland fit your style and timeline better? Whatever park you choose, a successful and stress-free Disney vacation requires a lot of advanced planning; which is why we're here to do the heavy lifting for you. In addition to accommodations, airfare and transfers, we can schedule your Fast Passes and create a touring plan for your family. Contact us now for Summer 2019!