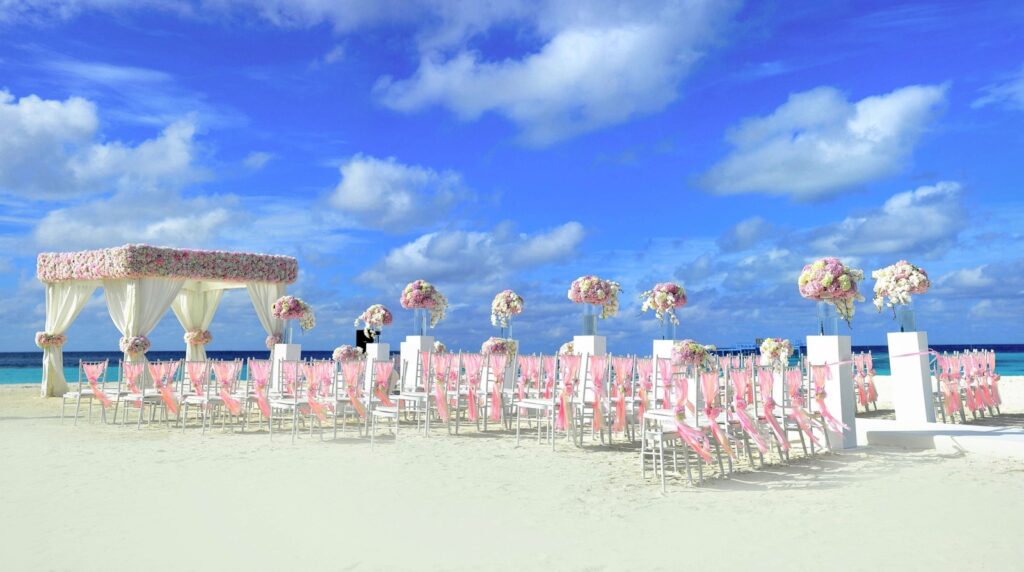 There's nothing more memorable, exciting, and romantic than a destination wedding. Just think, you and all your favorite people get to be part of your special day at one of the most beautiful settings in the world. It's truly the time of romance, joy, family, friends, epic photos, and…major stress? In this week's article, we lay out the largest destination wedding pitfalls to avoid. Learn from others' mistakes and make your destination wedding amazing, minus the headaches.
Pitfall #1: Going it alone (aka "GIA Syndrome"). While we just made up the acronym, it really does seem that some get inflicted with the GIA bug. Save yourself the stress! We recommend using travel experts whenever you travel, but seriously, they're an absolute must for destination weddings. Just think: your mother-in-law hasn't been on a plane since 1982. Uncle Joe forgot to make a hotel reservation. Your supposedly reputable caterer just fled the country. These are silly scenarios, but they (plus many more) happen! A travel expert will have extensive knowledge about your chosen destination, they'll take care of the logistics of booking all your guests' flights and hotels, and they have a network of truly reputable vendors to ensure your wedding day goes without a hitch. You should be focusing on making lifetime memories with your significant other. Let a travel expert handle the other stuff.
Pitfall #2: Not keeping your guests in mind. Remember, your guests are investing money to celebrate with you, but it's their vacation as well. For destination weddings, book early so guests have plenty of time to work with your travel expert. Be clear in your invitation whether children are allowed (some resorts are 21+ without exception). It's also polite to arrange for gifts to be delivered somewhere else so your guests don't have to travel with them. Consider including a few excursions or group meals/happy hours for your guests – it's a great way for them to spend time with the bride and groom – but don't feel like you have to overbook them. By getting things arranged early, being transparent, and including a few fun activities, you'll ensure that your guests have a great time, while still respecting their time and budget.
Pitfall #3: Not thinking through the legalities. There's nothing worse than showing up to your wedding only to find out that you can't legally get married at your destination. Each place has their own rules on witnesses, licenses, timelines, blood tests, etc. It's important to iron out these details well in advance so you can actually make it official. If you're traveling internationally and bringing a photographer (if the resort allows it), make sure any visa paperwork is good to go, since they'll be in the country working. Every destination is different; your travel expert can help smooth out the details.
Pitfall #4: Hurricane season. From June to November in Florida and the Caribbean, it's always possible that weather will cause some last-minute headaches. If you'd be completely devastated by rain on your wedding day, you may want to reconsider your dates or location. Otherwise, be flexible and roll with it! Check with your resort about backup plans so your special day can proceed even if the weather isn't cooperating. It's also always a good idea to get everything in writing, and check for clauses that allow for money back if the event has to be cancelled or postponed.
Pitfall #5: Going blind. While this isn't always possible financially, we find it gives extra peace of mind to schedule a site visit ahead of time. There's a level of comfort that comes with actually laying eyes on the property in person rather than relying on photos alone. By getting to meet the wedding coordinator in person, you can decide the absolute best location for the cocktail party, the ceremony, reception, dinner, etc. Alternatively, recruit a family member or friend living in the area to take a look, or at the very least find some candid photos of the property online. If you can't get there in person, that's okay, but work with a travel expert that has been to the chosen property/location.
Any wedding requires an enormous amount of planning, and destination weddings take it to the next level. By considering these potential pitfalls, you'll be one step closer to the destination wedding you've always dreamed of.
Did you like this article? Please LIKE us on Facebook at Facebook.com/SVandTP! We'd love to hear your thoughts.