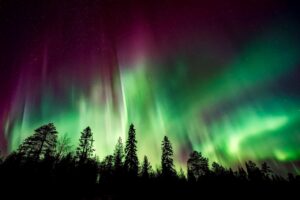 When asked how people feel when seeing the aurora borealis (known as the "Northern Lights") words such as amazing, breathtaking, hypnotizing, and extraordinary emerge. There simply aren't enough superlatives to describe the feeling seeing them for the first time. The vibrant colors lighting up the wide northern sky are truly an awe-inspiring sight. The curtains of dancing light ripple across the horizon; folding and unfolding, disappearing briefly, only to reappear as a new shape moments later. As 19th century Austrian explorer Julius von Payer described them: "No pencil can draw it, no colors can paint it, and no words can describe it in all its magnificence."
In Alaska, Fall is the beginning of the prime Northern Lights viewing season, which extends from autumn through spring. It may take a few days to catch a display since the lights are as fickle as the weather. It needs to be dark and clear enough to see the stars in order to see the display. Your best chance to see a great display of the lights is near midnight when temperatures are subzero and there isn't a moon. The Geophysical Institute at the University of Alaska in Fairbanks offers local aurora forecasts. Fairbanks is located in the interior of the state and is the place where the Northern Lights can be seen most reliably but they're usually visible over Anchorage for several hours, which is Alaska's largest city. Be sure to dress for the weather as each city has its own unique climate. Alaska rail and land tours are available year-round; we'll connect you with a Northern Lights guide to maximize your chances!
Iceland. While Iceland is known for its busy summer season, winter is also a great time to visit, with fewer crowds yet plenty of adventure and activities. You'll likely start in Reykjavik, Iceland's capital city. While you may think Icelanders hunker down for the long winter, Reykjavik breaks that mold as an energetic and thriving city year-round with modern museums, hip coffee shops, and highly rated restaurants. The Northern Lights are a major draw to Iceland; in fact, some hotels will offer wake-up calls upon request if they're spotted outside. Most notably, take a small-group guided Northern Lights tour outside the city. Join a team of expert guides who know the perfect spots for viewing those elusive lights.
Norway. Have you ever considered taking a cruise in the wintertime? In Norway, it's possible thanks to a Gulf Stream that moderates the outdoor and water temperatures. Imagine sailing north as the days become shorter and shorter, with the dazzling Northern Lights in view? When asked "What's Norway like?" we respond that it's "Alaska on steroids" due to its stunning scenery and countless fjords. Immerse yourself in the panorama of Nordic winter with a stay at a luxurious "snow hotel" where your room is completely sculpted from snow and ice, similar to an igloo. Just imagine being surrounded by wildlife, beneath the shimmering aurora in this quintessential winter destination.
Finland. Known as the world's happiest nation, much of Finland lies within the Arctic Circle, offering a prime spot for Northern Lights viewing closer to the North Pole. This "aurora zone" is where the Northern Lights frequency and intensity are at its greatest. One unique experience is staying in a "glass igloo" where you can cozy up under your heavy blanket and admire the sky through a transparent dome. On a clear night, imagine seeing the aurora from the comfort of your bed! Saunas are also a part of Finnish culture, so you won't need to look far to find one. It's a great way to relax, warm up, and get the blood circulating. If you're really brave, take a quick dip in a cold plunge pool! This has been known to boost your immune system and relax muscles. For Northern Lights viewing and more, Finland offers a perfect winter destination.
If you want the chance to "catch the Lights", contact us and we will design an adventure for you that is as exciting, memorable, and brilliant as the Lights themselves.