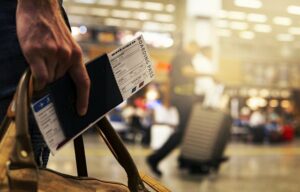 Are you wondering what to give yourself or your loved ones this Christmas? How about a gift that you already own; that's better than any item you could buy?  People are eager to get back out there and demand is surging. This week we describe the benefits and many ways of giving the gift of travel including using your built-up airlines miles and hotel points as well as the services a travel consultant can provide in making the process seamless. Make your holiday gift giving easy! Here are our top tips.
The perfect gift. After pandemic restrictions, everyone needs a vacation which is why the gift of travel will be especially appreciated. Plus, with inflation levels we haven't seen for decades, why not commit now before prices increase more? For the first time in a very long time the USD has parity with the Euro and in Canada it will buy $1.35 CAD. If you lock in now, you'll have comfort knowing it's confirmed, regardless of what the economy does.
Book directly rather than transfer miles. Many assume the only way to give frequent flyer miles is to transfer them into someone else's account. This always comes with fees. Instead, book the flight directly in the person's name from your own account. Don't book without speaking to them first; simply let them know you're setting aside points for them when they're ready. The good news is that airlines are more flexible now with the exception of basic economy fares. Check the airline's policy for re-banking miles should you cancel.
Don't let air miles and hotel points expire. You've taken several vacations and accumulated air miles with several airlines and hotel chains. Don't let them expire! In many cases, miles/points expire after 2 years of inactivity. If you don't fly with a particular airline often but you want to retain miles to give to another person, there are several options. First, sign up for the airline's or hotel's credit card. If you'd rather not go that route, you can convert hotel points to airline miles. And, there are many options to earn miles/points including something as simple as agreeing to take surveys or shopping through the supplier's link. Check your specific airline/hotel chain for their rules as they can vary significantly. 
Don't rule out international for a better value. Each airline has different redemption rates and policies for award tickets. What surprises many is that domestic tickets might not get you the same "bang for your buck" as an international ticket. Traveling business or first class to an international destination oftentimes is the best value!
Pool your miles with others. Some airlines allow you to pool miles with others at no additional cost. This way, multiple family members can combine miles for a gift to someone else. This is a great option if several people have miles that by themselves wouldn't qualify for a flight.
Work with a knowledgeable travel expert. Redeeming airline miles for flights can be confusing. That's why if Sunset Vacations is booking the vacation and you'd like to relinquish the hassle of using your air miles, we offer that service for a minimal fee leaving you confident that you got the most value. Even better, you can pair a mileage gift with Sunset gift certificates, redeemable for planning fees, tours, packages, excursions, and more.
Contact Denise for some Stress Free travel shopping that provides lifetime memories, the chance to reconnect and relax, and exponential growth and knowledge.