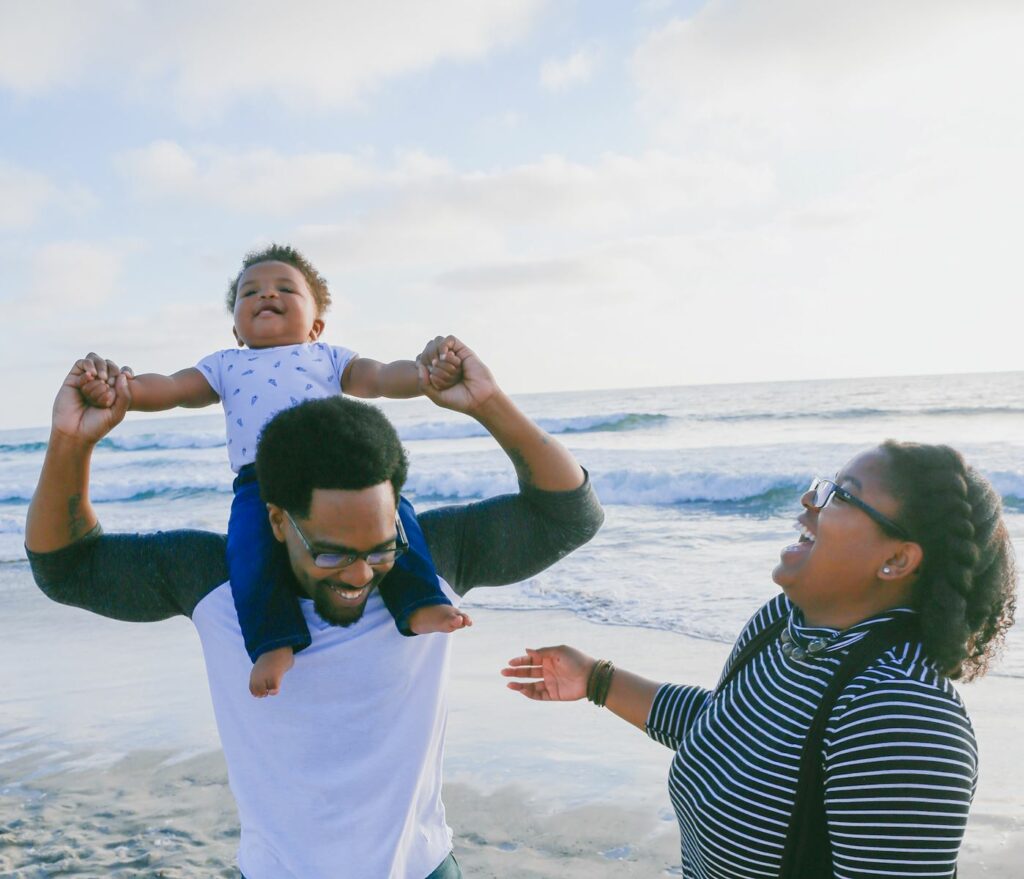 When flying you've probably witnessed the stressed-out family, doing their very best to entertain their exhausted kids on the verge of a meltdown. These scenes make anyone question whether it's worth it to fly with the little ones. We're here to tell you that having kids doesn't mean your best travel days are behind you. With a few tactics, you can make flying with young children easier and more enjoyable! Pass along to your kids a passion for exploring the world with these easy tips.
Fly early and direct. When possible, select a morning flight as it's your best chance to avoid delays before small hiccups snowball into large ones. The first flight of the day often means the plane has been there since the prior evening, and the air tends to be smoother during the early hours, allowing your sleepy little ones a chance to nap throughout. Speaking of napping, who wants to be awakened for an unnecessary layover? Fly direct when you can. Leaving your city and arriving at your destination in fewer hours creates one less obstacle for a stress-free vacation.
Choose your seats wisely. First, make sure you book a ticket that allows you to choose your seats ahead of time. You don't want to leave this to chance. We recommend giving your kiddo the window seat for a variety of reasons. First, it keeps wiggling arms and legs away from the aisle where other travelers, flight attendants, and beverage carts come passing through. As a bonus, these newbie air travelers will love watching the clouds float by beneath them and they can lean against the window for a nap. For an additional fee, most airlines offer rows with extra legroom to spread a few toys around. The bulkhead row (right behind First Class) is also a great spot for families. Just make sure to avoid exit rows, as the age minimum is 15 years old to sit there.
Triple check documents. Before you head to the airport, make sure you know what documents you'll need for the kids and that they're still valid! For trips within the U.S. you generally don't need ID for the kids to get through security. However, if you're planning for them to sit in your lap on the plane, your airline may want to verify age (2 and under) through a birth certificate. Check your airline's policy to avoid a trip spoiler. For trips abroad, everyone needs a passport. Keep in mind that while adult passports are valid for 10 years, children's passports expire after 5.
Dress for success. Take a complete change of clothes for everyone, grownups too, in your carry on. Spills happen and nothing is more uncomfortable than sitting in wet clothes. Dress your children in layers that can easily be added onto or removed. Recall how small the airplane restroom is and stick with clothing that is easy to change without complicated zippers or buttons. Since there can be long waits for the lavatory, plan accordingly including bringing Pull-Ups even if they're on their way to being toilet trained.
Mask protocols. Everyone aged 2 and up are required to wear a mask in the airport and on the plane. Exceptions include when eating or drinking. That can be tough for a toddler to understand. It helps to practice a few days beforehand, and make it seem fun with themed kid-friendly masks. Flight attendants enforce the mask rule but are usually understanding that it can be a challenge with the little ones.
Activities/Snacks. Bring activities that are new to them like a new lift the flap book or light up toy for the very young, or a new coloring book and stickers for toddlers. Don't rely on the snack and beverage service on the plane; it's oftentimes not being offered right now and you don't get much selection anyway. Instead, bring a variety of snacks that will keep the little travelers entertained. For some reason sitting equals snacks to them. Pack way more than you think and a few small Ziplocs to stow the leftovers. Gummies are a good one for altitude changes.
Protect those ears. That ear-popping sensation during takeoff and landing is perfectly normal, but for a young child it can feel strange and scary. Giving them a bottle, pacifier or gummies during the flight can help open the Eustachian tubes. It also helps to keep them awake during altitude changes as their ears won't naturally adjust as much when they're asleep.
Flying with small children doesn't need to be difficult but know that sometimes they just get impatient and cry. Don't let it stress you out! Most folks understand and the flight won't last forever. Just do your best. Plus the more you fly, the better used to the experience your child will be. With a game plan in place, you'll be on your way to a stress-free family vacation and a worldly, educated child.