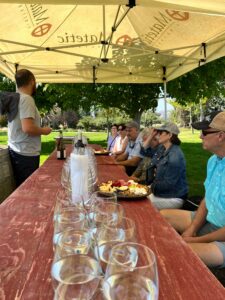 Travel has come back in a big way this year and for that we're grateful to plan cherished memories for many of our clients and friends. When thinking about the next getaway you'd like to take, we say there's a difference between "low-cost travel" and "value-driven travel." If you're the type of person who wants to travel well, some upgrades can make a big difference in shifting from a good trip to one you'll cherish forever. Booking early is key! These are our top upgrades worth splurging on.
Hiring a travel advisor. A travel advisor is a real person who is there each step of the way to plan your excursions, lodging, airfare, and to provide expertise due to their wide-ranging industry connections. Many people think it's easier to book on their own using online booking agencies, but this strategy rarely pays off due to the amount of research needed, not to mention stressful uncertainties. Travel advisors are also there to assist when things go wrong and will advocate on your behalf.
Private transfer services in destination. Arriving at your destination knowing you'll need to navigate public transportation or an Uber is not a stress-free or always safe option. Transfers to and from the airport saves time, is pre-paid (no price gouging), and can help navigate traffic to quickly, safely, and efficiently get you to your destination.
Comfortable hotel rooms at 4 star and above properties. A hotel is part of the experience, and amenities matter! A travel advisor can recommend smart upgrades to avoid noisy rooms, get the best views, and add additional space. Spending a little extra for a nicer room can make a big difference, and a suite versus a basic room can help keep everyone's nerves a bit calmer.
Centrally located hotels within walking distance of popular sites. You didn't spend the time and money to arrive at your destination only to be miles away from the desirable sites! Avoid the hassle of navigating transportation each time you leave your hotel and prioritize the property's location so it's a short walk to where you want to be.
Private tours with local guides. Some people skip tours because they associate them with crowds, tourist traps, and inauthentic experiences. When led by local guides, a tour can help bring a destination to life by experiencing it with people who live there. This can add understanding to the culture and history of your destination in a more authentic way than simply exploring on your own.
Premium Economy air vs. Economy. On most international flights across the water, there is a section between Economy and Business called Premium Economy with larger seats, more leg room and recline. We think this is a worthwhile investment for your comfort and better health. You'll also be able to de-board sooner and not have the struggle for overhead space. And the meals are tastier too.
Travel Insurance. You can't put a dollar figure on peace of mind; so this is an important step that shouldn't be overlooked. Taking a vacation is an investment – not only in yourself and your family's well-being but also a financial one. If a travel insurance policy seems too good to be true, it probably is. When things go wrong, you want a policy that is reputable and fits your needs. This could include primary medical insurance when traveling abroad and even evacuation back to the U.S. which could save enormous amounts of money. 
Some small upgrades just make sense and can turn a good vacation into an awesome one. When you're ready to book your next getaway, don't delay! Contact Sunset Vacations. This is a busy travel year and options will run out quickly.