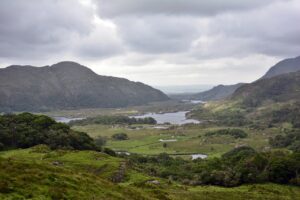 Ireland is filled with lush green landscapes, castles, bustling pubs, coastlines, quaint villages, and more. With sheep outnumbering people, Ireland has a mysterious draw that awakens the senses, and with some of the friendliest people around you'll feel right at home pulling a seat up at the local pub. Why do millions visit and continue to return to Ireland? This week we focus on 10 of the most beautiful sites in Ireland and invite you to join our small-group tour this October 2023. Only a few spots remain!
Malahide Castle. Located just north of Dublin is Malahide Castle, built in 1185. Here you can explore a wide array of medieval artifacts and hear stories about the many generations that the owning Talbot family called the castle home. The grounds also feature 260 acres of relaxing parkland with over 5000 plant varieties and a butterfly house, making it a perfect place to unwind for a stroll or picnic after a long flight into Dublin.
Kilkenny. Kilkenny is a thriving community with festivals, award-winning restaurants, local boutiques, and beautiful woodlands. It's home to Ireland's Medieval Mile, a trail running through Kilkenny going from cathedral to the ancient Kilkenny castle, with buildings along the way dating back to the 13th century. The city is a juxtaposition of new and old, giving Kilkenny a vibe that needs to be experienced in person.
Waterford. Waterford is the oldest permanent settlement in Ireland, located alongside the sunny southern coast. Founded by Vikings, you can see their influence on the city that shows through even today. The famous Waterford Crystal Factory is a main highlight of any visit to the city for unique and high-quality souvenirs and you can even take a factory tour to learn how the crystal glass is made.
Cobh. Known famously as the Titanic's last port of call, Cobh is a quaint, colorful, seaside town perfect for when you want to escape the hustle and bustle of busier cities. The neighborhoods are filled with brightly-painted houses, overshadowed by a gorgeous cathedral towering over the sea. The Cobh Heritage Center is also a must-visit, tracing emigration over the centuries from Ireland to North America.
Blarney Castle. Build between the 15th and 17th centuries by Gaelic lords and the Anglo-Irish, the Blarney Castle is a tower house that rises 5 stories high, with 18-foot-thick walls. Visitors can explore the castle itself, take a stroll through 60 acres of beautifully cultivated gardens, and experience the castle's main attraction of kissing the Blarney Stone. Why climb to the top to be dragged to the edge of the castle to kiss this famous stone? Legend has it that it confers the skill of sweet talking or "gift of the gab" that you'll acquire to fit in with the Irish locals.
Killarney. Nestled in a valley at the base of Ireland's tallest mountain range is the town of Killarney. Surrounded by thousands of acres of national parks, Killarney is known for its rolling hills, waterfalls, ancient forests, wildlife, and sparkling lakes – all of which offer endless chances to hike, kayak and sightsee. The town of Killarney is filled with friendly locals with a wide array of restaurants and pubs, making it the perfect launching point for some of the best natural sightseeing in the country.
Dingle. Located on the Dingle Peninsula on the southwestern tip of Ireland, this laid back town offers an authentic Irish small-town vibe with friendly people and a wide choice of restaurants and pubs. If you're into watersports, Dingle offers sailing, surfing, and swimming – perfect on a warm day. There also are many hikes available along the beautiful peninsula with stunning views of the water as well as ancient stone structure remains, a constant reminder that Ireland is a very old place indeed.
Cliffs of Moher. Located in southwest Ireland's County Clare, the Cliffs of Moher are one of Ireland's most dramatic sites. Reaching over 700 feet high and stretching for over 8 miles along the scenic Atlantic coast, it's difficult to describe how jaw-dropping the cliffs are without seeing them in person. This area is also a UNESCO Global Geopark due to the habitat it provides for wildlife including 20 species of birds. If you're lucky, you might run across an Atlantic Puffin, a resident of the cliffs.
Aran Islands. The Aran Islands consist of three separate islands, Inishmore, Inishmaan, and Inisheer, from largest to smallest. A 45 minute ferry ride from Galway transports you to another time where unlike most of Ireland, Irish is the predominant language spoken by the locals. You can rent a bike to ride through the lush green landscape, go horseback riding, and take in the dramatic Atlantic views. On Inishmore you can also visit Dun Aonghasa, an ancient stone fort overlooking the bay.
National Botanic Gardens. Located near Dublin's city center, these gardens are some of the most beautiful in Ireland and are known for the carefully restored glasshouses. A premier scientific institution, the gardens contain plant specimens from all over the world. Dating back to 1795, well before Ireland gained its independence, the botanic gardens offer an oasis of calm and beauty as you explore Ireland's bustling capital city.
Ireland is known for the beauty of its people and landscapes. If you're inspired to visit the Emerald Isle, give us a call and consider joining us in October '23!