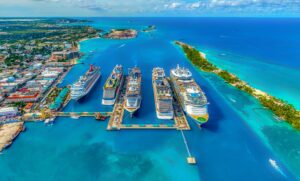 After being shut down for 15 months, cruising is finally operating with some level of normalcy while still following safe protocols. After all, the cruise lines have had 9 months of practice getting it right. This was further confirmed when the CDC lifted all travel warnings for cruising, now simply recommending common-sense precautions such as being vaccinated, wearing a mask in certain areas, and washing hands. With this excellent news, we expect demand for cruise vacations to be strong for the remainder of 2022 and beyond. With more and more clients feeling comfortable cruising again, one question you may have is whether to book on a large ship or a small ship. There are pros and cons of each, and this week we break down the many options.
Passengers. Do you like constantly meeting new people, or are you a fan of more intimate settings where you get to interact with the same travelers throughout the journey? Large ships certainly have perks and near-endless areas to explore, but the drawback is that you might never see the same folks twice. On the flip side, maybe you prefer to keep a low profile on your vacation without pressure of socializing with the same people. Plus let's face it, one annoying passenger on a small ship can really impact the vibe of the whole trip. Ship capacity varies from less than 100 passengers to over 5,000 so there's certainly a large range when choosing the right fit.
Dining. In addition to the included Main Dining room, large ships offer numerous "specialty dining" restaurants for a small cost like steak, sushi, Italian, and more. If you're traveling with a picky eater or want to indulge in various cuisines, this can be a huge perk. Smaller ships will have fewer choices but still a varying menu nightly. My cruise experience has been smaller ships and yachts have amazing chefs and there's no stress or worry about where your group is going to eat each evening.
Activities. Large ships have plenty to keep the whole family happy on-board including pools, spas, miniature golf, ice skating, rock climbing, water slides, and a casino (just to name a few). You could in theory never leave the ship and have had a fulfilling vacation! Logically, the smaller the ship the fewer the on-board activities which translates into more time off ship exploring the locale. While large ships offer a plethora of off-shore excursions, fewer crowds disembarking from a smaller ship can offer opportunities to explore the culture and history of a destination, making it easier to immerse in the places on your itinerary. But if you want more choices and perhaps want to spend a relaxing day on the ship, a larger cruise might be better.
Destinations. Because of their size, smaller ships can visit "off-the-beaten path" ports that larger ships cannot as well as dock closer to town. This offers more unique and authentic destinations and experiences than larger ships. This includes river cruising both in the U.S. and Europe as well as ocean cruises to smaller port of calls in Alaska, the Mediterranean and the Galapagos Islands. Larger ships depart from more ports (including Galveston) and visit well-established ports known for catering to a large number of travelers of all ages and styles.
With the CDC lifting its health advisory for all cruising, now is a great time to plan your first or 20th cruise vacation! How about a family reunion or anniversary trip? There are pros and cons to choosing a large or small ship cruise getaway; we'll walk you through the options to make your vacation stress-free.