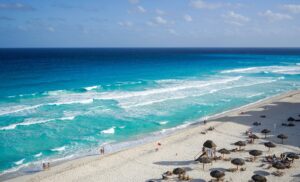 Is visiting an all-inclusive resort on your bucket list? Are you dreaming about beautifully manicured properties with meals, snacks, drinks and activities all at your fingertips for one set rate? Going all-inclusive is one of the most relaxing and stress-free ways to visit a destination, but there are some things you'll want to keep in mind before heading to your beautiful resort. To help make your all-inclusive trip go as smoothly as possible, we've put together a few tips to keep in mind when planning your trip with us.
Tip 1: Don't expect absolutely everything to be covered in your rate. With all that is included in your all-inclusive stay, some items aren't covered. This can include spa treatments, a round of golf, premium wine/beer/liquor outside of standard brands, and some restaurant upcharges. Each resort is different so it's best to understand what your flat rate includes ahead of time to avoid frustrating charges; your travel expert will help with this when narrowing down properties.
Tip 2: Gratuity is appreciated and pays off. Some resorts have a published no-tipping policy, meaning your flat rate includes all gratuities for housekeepers, bartenders, and other employees. Typically, however, tips are much appreciated by the friendly staff working hard to make your stay wonderful. Plus, you never know, tipping your bartender might give you some VIP status that others don't have. Whether paying upfront or throughout your vacation, tipping is the right thing to do. By the way, U.S. currency is widely accepted throughout Mexico and the Caribbean, though local currency is also accepted.
Tip 3: Pack Lightly and Smartly. At an all-inclusive resort most of your days are spent by the pool and beach during the day, followed by a classy dinner at night. As a result you don't need to overpack where you're heaving your bags through the airport and the resort. Think through your daily routine and only pack what you need. For example, do you really need three swimsuits or a different pair of shoes for each dinner? Pack just a few outfits, mix-and-match, and enjoy. Make sure to also pack a small first-aid kit, sunscreen, and a raincoat for the afternoon rain.  All-inclusive resorts usually have a gift shop that has these items, but they'll be priced way higher than at home.
Tip 4: Review restaurants, dress codes and reservation policies ahead of time. Policies vary by resort. Some resorts require dinner reservations and at others a reservation is never required. It's first come first served. Make sure you review the food items at your resort when you arrive and check the daily program for which ones are open. Some restaurants operate only on certain days. If the resort allows reservations, make them as soon as you arrive for your duration so you don't miss out on visiting your favorites. Remember to check the resort dress code prior to departure so you pack the appropriate dinner attire.
Tip 5: Try something new and relax. Use your vacation time to step out of your normal routine and try something new! Resorts typically offer a wide array of excursions or experiences. Splurge on a spa experience or go off-resort for a zipline tour. Most importantly, use your all-inclusive time to relax! After all, it's a vacation and the purpose is to step away from the normal routine and enjoy life in a beautiful place. Make sure to soak up every moment.