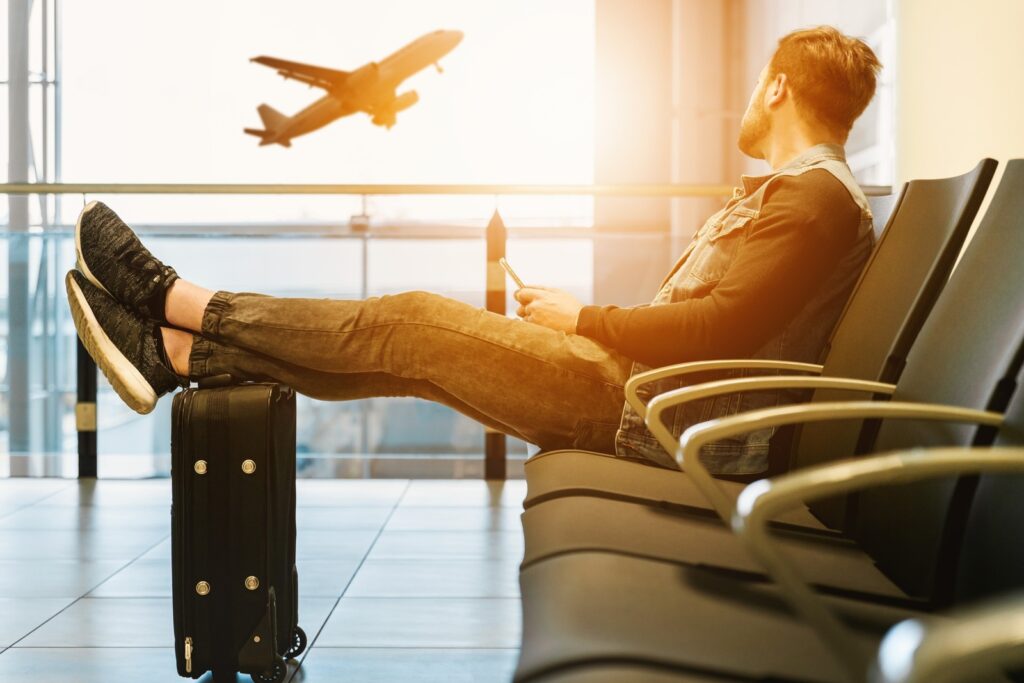 Flights are once again full as travel demand has soared and airlines try to play catch up. This means more competition for every seat, and therefore the old headache of falling victim to an oversold flight. Unfortunately, a paid-for ticket in hand doesn't always guarantee a seat on that plane to Cancun. Banking on the fact that some passengers won't show up, airlines are allowed to oversell flights. Usually this gamble works out but sometimes it doesn't, which leads to a real vacation spoiler. There's no way to eliminate the risk that you'll be the unlucky passenger, but here are some tips to reduce your chances, as well as what you can do if you are bumped.
Get a seat assignment. We always recommend booking your flight well in advance; one reason is the ability to confirm a seat. You can book a ticket without a seat assignment, but then you're at the mercy of the airline to assign one at the gate when/if someone doesn't show up. Plus, choosing a seat ahead of time gives you the ability to select where on the plane you want to sit, if you want an aisle/window seat, etc. If you can't book your seat ahead of time, we recommend looking at other flights if you have flexibility. One other note, some airlines offer a basic economy fare that does not allow seat assignments. We strongly recommend you avoid the tempting prices offered, as folks in this fare category are often the first to get bumped.
Check in and show up early. When it comes to air travel, doing anything late is asking for problems. Even with a seat assignment, you need to be at the gate when the plane boards, usually starting 30-40 minutes before the posted departure time, otherwise your ticket will be given away. This means allowing plenty of time to show up at the airport to park, check bags, go through security, and find your gate. Finally, it's a good idea to check in online 24 hours before your departure time. Being one of the last passengers to check in can raise your chances of losing your seat. Keep in mind no matter when you check in, you still need to check bags absolutely no less than 45 minutes prior to a domestic flight or one hour for international.
Double check your boarding pass. When you book air travel through us, we keep track of your reservation for any changes that occur. Nevertheless, we always recommend double checking your pass to re-confirm the departure time, gate assignment, and seats for any last-minute changes. If you don't see a seat assignment on your boarding pass, that's a potential red flag that you may be higher on the list for getting bumped. The earlier any issues are detected, the more time the airlines will have to help find a solution. Downloading your airline's app is a good way to detect changes or issues in real-time.
Fly direct. There are a lot of reasons to fly direct when it's an option. Just think, the more flights you take the more likely you are to run into issues with delays, missed connections, and (you guessed it) oversold situations. Plus, if you are booted off a direct flight, you have a 50/50 shot of being in your home city, which is a much better option than scrambling for a hotel last minute. We think a direct flight's convenience is worth it, even if it's slightly more expensive.
Join the airline loyalty program. If airlines know that you're a devoted customer, they want to keep you happy and coming back. One way they can measure this is by seeing if you're a member of their loyalty program. Every airline has its own program and they're free to sign up for. Plus, you might even get some other perks like earlier boarding or earn enough points for a free flight down the road. On the other hand, if you're not part of their program, you might be higher on the list to get bumped if they think you'd pick another airline in the future anyway.
If you are bumped from a flight, the key is to remain calm! Airline employees are human and they'll be more willing to help find a solution if you're polite. That said, don't assume that the flight you're re-assigned to is the only option available. If the proposed solution isn't suitable, ask what other options exist. This could include re-routing through a different city or even on another carrier. Flying on a mainline carrier increases your chances of getting home without significant delay; ultra-low cost airlines often have only one or two flights daily with no interchange agreements with other airlines, which is one reason we avoid them. Also, it's important to know your rights as a passenger for cash compensation. Finally, we always recommend travel insurance to cover unexpected costs in case of a flight hiccup.
Each airline has their own system on who gets bumped and who doesn't, and it's kept quite secretive. However, the above are some easy and common-sense things you can do to lessen your chances and make your trip stress-free.