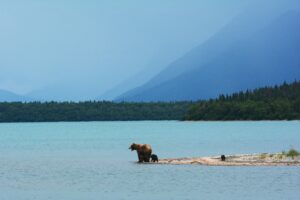 Towering snowcapped mountains, massive glaciers, and wildlife at every turn. There's a reason why Alaska is one of the most beloved cruise destinations in the world. Just imagine waking up every morning from the luxury and comfort of your balcony stateroom taking in this astounding beauty. While land-based trips are also popular, cruising is a perfect way to access remote locations, many of which are only accessible by ship or plane. With over 600 voyages scheduled this summer the question then becomes, when is the best time to take an Alaska cruise vacation? The cruising window typically runs from April to October, and each of the 7 months offers some pros and cons. So, what matches your style best?
Shoulder season: April and October
If you enjoy fewer crowds and want to experience a somewhat quieter Alaska, you might want to consider cruising early or late in the season. While most voyages occur between Memorial Day and Labor Day, there are several large and small-ship cruises that depart earlier or later. In April, you'll have the chance to experience Alaska as it begins to wake up from the winter. Days will be shorter and crisp; you might experience freezing drizzle or snow – but you'll have a chance to observe the change of seasons before the larger crowds arrive. You might also have the chance to catch a glimpse of the Northern Lights in the dark, clear sky.
Late-season cruising in October can also offer similar benefits as April. You'll want to dress in layers as Juneau averages only 39 degrees. While some attractions may be closed or limited, your itinerary will still include many offerings, plus you may get the chance to sit down with one of the locals, seeing how Alaskans live during the off-season.
Peak season: May through September
Traditional Alaska cruising season begins in May with both the locals and the wildlife fully emerging from winter mode and getting ready for the long, beautiful days. May is the driest month. The season really ramps up in June where travelers can experience the "midnight sun" on the summer solstice, the longest day of the year.
If you have kiddos in school, chances are you'll be looking to cruise in June, July, or early August. This is the height of Alaska cruise season when all excursions and activities are open. With that comes peak-season pricing at many places and larger crowds. While the weather can change constantly, don't be surprised to see some days reaching the 80s. Mid-summer is also spawning season for salmon, so if you want to see grizzlies and brown bears near streams catching their dinner, this is the best time to visit.
One of the best times to spot wildlife in Alaska is during September. Bears will be hunting in preparation for their long winter hibernation and caribou, deer, and moose will be mating. You'll also see beautiful fall colors and with fewer mosquitos than in the summer.
The bottom line
Alaska is a bucket list-worthy destination no matter when you visit. Choose the shoulder season if you don't mind cooler temperatures and prefer fewer crowds. If your goal is to view wildlife, go when everything is fully open and the summer is in full swing and you'll have ample opportunities to see bears, humpbacks whales, bald eagles and other amazing animals – depending on your itinerary and chosen excursions. Or perhaps you're interested in a cruisetour: a land and sea package that includes your cruise, overnight accommodations in lodges, railway journeys and motorcoach travel between destinations like Anchorage, Fairbanks and Denali National Park.
It's a lot to absorb, plan and organize! But I'm here to make your planning smooth and easy so you can get to the "I'm so excited" to be going to Alaska part. Contact me today for this summer or next.