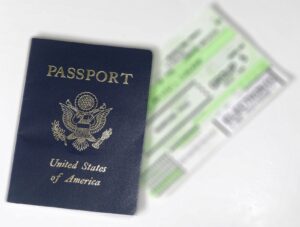 #1 – Passport Card:  Since 2008, the U.S. has issued passport cards in addition to the traditional passport book.  The cards can be used at land border crossings or ports-of-entry by sea from Canada, Mexico, the Caribbean, and Bermuda, so any other itinerary requires a traditional passport.  That said, using the wallet-sized card when eligible gives you access to expedited Ready Lanes at many border crossings, letting you bypass the lines of traditional passport holders.   Additionally, passport cards are cheap:  new adult cards and renewals cost $65 and $30, respectively, compared to $165 and $130 for a traditional passport.  Can't decide whether a passport card or book is right for you?  You can always apply for both.
#2 – Mobile Passport App:  This app is up and running in 33 air/cruise ports.  Instead of filling out customs and immigration paperwork and waiting in line, you submit the forms directly from your phone.  You'll then receive an electronic barcode, which you show to an officer via a designated express lane, along with your passport.  The best part is, the app is free!
#3 – TSA PreCheck:   Gone are the days when getting through security was easy – unless you have the PreCheck symbol on your boarding pass!  TSA PreCheck travelers are entitled to expedited security lines, plus you can keep your shoes and jacket on, significanly reducing the time and hassle of getting to your flight.  This program is relatively inexpensive at $85 for five years, and you can get online to schedule an appointment at one of over 380 enrollment centers for a background check and fingerprinting.
#4 – Global Entry:  For $100 every five years, Global Entry entitles you to enrollment in TSA PreCheck, plus you can skip the paperwork and bypass the processing lines when re-entinring the U.S.  Instead, you'll go to a kiosk, make any customs declarations, have your passport and fingerprints scanned, and head for the exit.  To enroll, you'll need an appointment for an in-person interview and fingerprints at an enrollment center, found in many airports and large cities.
#5 – Clear:  As a private company, Clear operates in over 50 airports, and lets you skip the line for reviewing IDs and boarding passes.  Instead, Clear members head to a kiosk  to have their identify verified by fingerprint or iris scan and then go directly to security.  At $189 per year, it is the most expensive of the options, but it's also fast and easy to sign up – often taking just a few minutes at the airport.  Pair a Clear membership with TSA PreCheck and you'll really fly through the process. 
Don't let a line get in the way of your vacation!  With a little planning,  you can breeze through security and immigration, all while keeping your bank account and sanity intact. 
Want more expert travel tips?  Sign up for our twice-monthly newsletter at Facebook.com/SVandTP.  While you're there, won't you LIKE us?  Let's keep in touch!