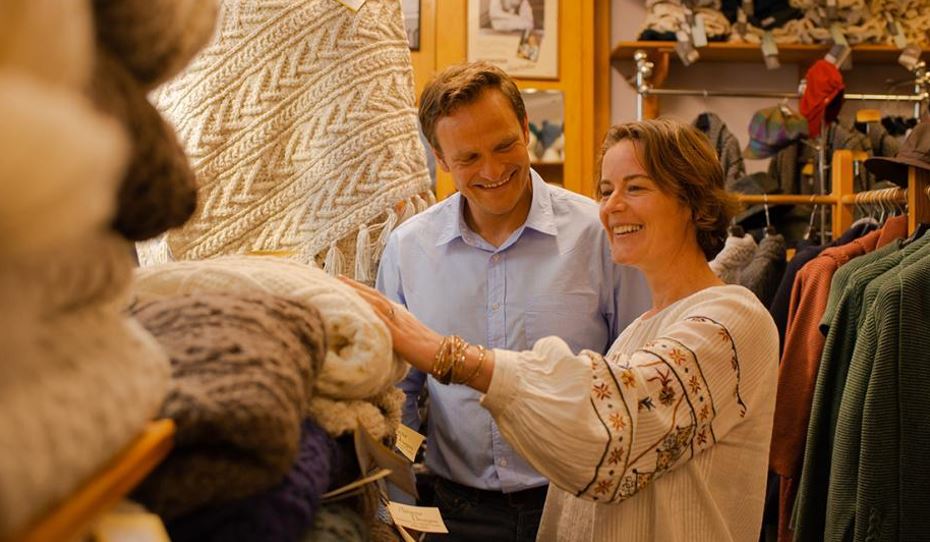 Millions of people visit Ireland each year to view its stunning green landscapes, castles, pubs, coastlines, quaint villages and more. Ireland is perfect to visit any time of year, with changing seasons offering different experiences, sights and sounds. And when visiting, you'll no doubt see many beautiful, enticing handcrafts and unique products that will reflect Irish history, landscape and culture. You'll want to leave room in your suitcase for some souvenirs to remind you of your trip and to give as gifts for friends and family! What are the best, authentic souvenirs to buy in Ireland? Here are our top suggestions.
Woolens – All the sheep you'll see provide the wool for some of Ireland's coziest products. Look out for hand-loomed throws and blankets in beautiful colors and patterns, or caps and jackets in earth-toned tweeds. The traditional Aran sweater is an ever popular choice – check out the most luxurious traditional favorite, which is supremely warm and handknit from heavy wool, or less expensive designs that are often machine loomed and sometimes made with softer merino wool. Want to wear your new wool sweater before leaving the Emerald Isle? Visiting between November and February might be perfect for you; the shorter winter days and rainier weather can feel quite cozy and it's oftentimes less expensive than visiting during peak summer season.
Crystal – Ireland has been producing beautifully cut lead crystal since the opening of the first crystal factory in County Tyrone in 1771. While Waterford is the biggest name today, there are a few smaller producers of the sparkling glassware. Crystal candlesticks, bowls and picture frames make nice mementos and look beautiful at home.
Ceramics – Belleek china is a classic choice for dainty, cream-colored porcelain often accented with green shamrocks. You'll also find more rustic stoneware and hand-thrown ceramics in colors inspired by the beauty of the Irish countryside.
Jewelry – A Claddagh ring is most iconic adornment to buy (and if you're going to be in Galway, be sure to stop into the tiny Claddagh Ring museum on Quay Street!). Jewelry made with Connemara Marble, with its classic green hues, is another distinctive option. You might also check out Newbridge Silver's offerings, the History of Ireland collection, or the many artisan creations you'll see in gift shops.
Food and drink – You might want to bring back the taste of Ireland with you. While many foods like cheese and meat products are likely to be restricted by customs back home, drinks make great gifts – liqueurs and whiskies are available in duty-free shops. You might also enjoy chocolates – Butler's is a high-end version and Cadbury's is always popular as well. Flakes and Crunchies are a good pick for kids. Tayto potato chips are also local favorites and distinctly Irish. For the best selection of food and drink to sample and take home, summer is your best bet for making sure that every place is open. If you're into Oysters, visit Galway in September for the Galway International Oyster and Seafood festival.
Books – Ireland's many bookshops are well worth a browse – there's no shortage of slim volumes of poetry, weighty histories, exciting crime fiction and stunning art books to suit every reader. For true bookworms, check out Dublin on June 16th for Bloomsday – the anniversary of the historic date when James Joyce published his famous novel "Ulysses".
Scents – Bring the atmosphere of Ireland home with you, with Irish-made candles, soaps and perfumes, often scented with distinctive local florals. Or pick up a small package of peat, which you can burn like incense to bring the flavor of an Irish cottage into your home.
No matter when you visit, Ireland travel offers visitors a unique and charming adventure met with the warm and welcoming 'cead mile failte' spirit of the people. Be reminded of Ireland each day after you return home by considering these authentically Irish souvenirs!