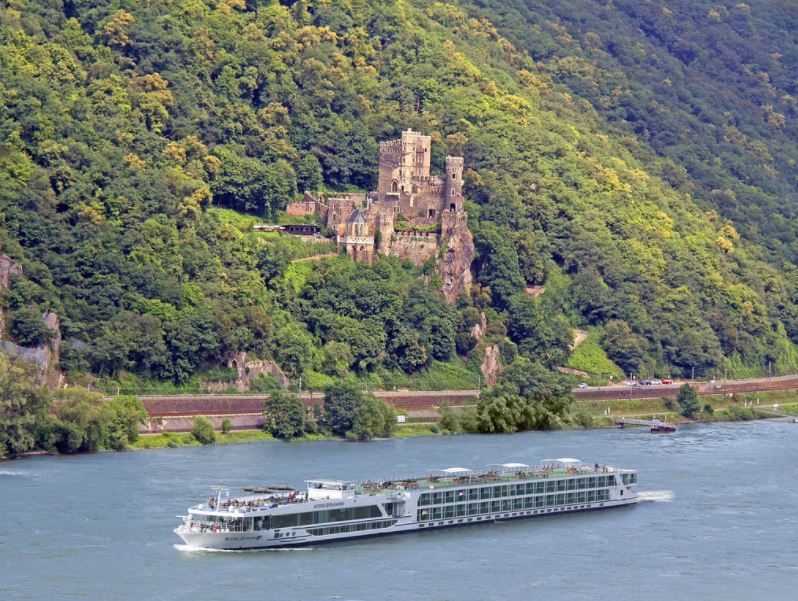 My husband and I just returned with our Sunset group of 17 which included old friends and now new friends from sailing the Rhine River from Basel, Switzerland to Amsterdam. Prior to boarding we spent a week doing a circle tour of Switzerland that was over-the-top fabulous. Boy did it feel good to travel and see how far the world has come!
Our travels were initially planned for 2020. We had to jump many hurdles and navigate changes and bumps to travel this year but the hardiest of travelers were up for the match and we'd do it again in a heartbeat.
For this Sunset group adventure I chose Scenic river cruises, the most all-inclusive river line. With the exception of extra laundry or a massage, we all walked off the ship with a $0 balance which set well with us.
Embarkation
Boarding the Scenic Opal couldn't have been easier. When our motor coach arrived at the dock about 2pm, Scenic staff was there to greet us. Our luggage was unloaded and we showed our negative PCR test results taken two days earlier; then into the boarding line we went. As each person crossed the threshold, we were warmly welcomed; we sanitized and then we were escorted to our cabin where our luggage arrived almost instantly.
Cabins
The luxurious Opal is 443 feet long with 4 decks and a maximum of 163 guests in 82 cabins. We later learned that we were sailing with 65% capacity. Within a few minutes our butler arrived to acquaint us with every aspect of our retreat for the next 7 nights. When selecting Scenic I knew I would love their cabins' spacious design and the verandah that is part of your cabin not outside your cabin. With the touch of a button, a wall of glass lowers half way to bring the outdoors in. There was tons of space including a bath with a large shower, a mini-bar that was replenished twice a day with liquor, wine, drinks, water and snacks. They could even be personalized to you along with robes, golf umbrella, walking sticks and a keyboard that allowed you to use your TV as a computer and much more. Cabin ventilation brought in outside air not recirculated. We were content and happy!
Safety
Our cabins included hand sanitizer, masks and two self-test Covid kits for our anytime use. We were asked at the safety briefing to wear a mask onboard when not eating/drinking and especially at the buffet. Outdoors on the Sun Deck it was not required or when socially distanced. We masked up on transportation to and from excursions and honored the protocol of each site we visited. All guests were fully inoculated and had a negative PCR test prior to boarding. The crew is regularly tested with temperature and health checks; each wore a face mask at all times.
Laundry
Boy did we like this feature, a free bag of laundry! Our butler handed us a small canvas bag and said we could "smartly" fill it with clothing to be laundered for free. Since we had been gone from home already 8 days, you bet we could tightly roll and stuff laundry! We turned it in the next morning and had it back that night.
Dining & Drinking
Where do I begin? Do I talk about breakfast on your verandah in the morning or the incredible food in the dining rooms? Both breakfast and lunch were buffets or order off the menu. Anything you wanted to drink poured freely 24 hours a day. There was room service but for other than breakfast I'm not sure it was used by most guests. A self-service coffee and hot chocolate machine plus a big variety of teas received a lot of attention from the guests. A variety of plated snacks were available at the bar all day. Lunch was my favorite meal of the day! Different each day was a chef prepared tasty entrée to our individual liking, a tasty soup, an ice cream and a sorbet. Combine that with an assortment of salads, entrees, sides, cheeses and desserts. Oh my! At dinner we ordered off the menu which changed nightly. All dietary needs were met with diligence and attentiveness.
Lounge and Nightly Entertainment
The lounge was a lovely inviting place to gather for conversation, viewing and drinks. Each night local entertainment was brought onboard from vocalists to trios and violinists. All drinks onboard were included all day not just certain drinks at certain times of the day. All premium brands, none excluded. The staff was quick to learn your favorite drink and often brought it to you before you even had a chance to order.
Excursions
All excursions and tours were included; none carried a surcharge. On our seven night cruise we made six stops and in each location we chose from three options daily -walking tours of the towns/villages, bicycle tours, historical hikes up to castles, wine-tastings, museums, etc. Actually, it was hard to choose. The evening we were in Baden-Baden we were treated to a private classical concert/opera in Rastatt Palace, modeled on the Palace of Versailles. It was an evening of grandeur, enormous talent and lifetime memories. Oh yes, it was included too.
Three days before the cruise ended all U.S. guests took the required Covid test (PCR saliva tests) self-administered to return home. We received our results the next day. And again, this was included at no charge. The staff and service onboard were amazing! Gratuities were included in our fare for all the staff and the land guides that provided our excursions. Our included transfer to the airport was so easy. Our escort even came inside with us to make sure we got through the airport check in process successfully with our required paperwork.
I feel the biggest benefit to river cruising is unpacking once while you continue to move and have new experiences. It's like watching the world float by from your bedroom or living room. It was a relaxing and a welcome stress relief vacation, much needed after the pandemic.
Now is the time to have me assist you in planning your relaxing, stress-free vacation. Let's get started! Contacting me today is step #1. ~ Denise Koranek