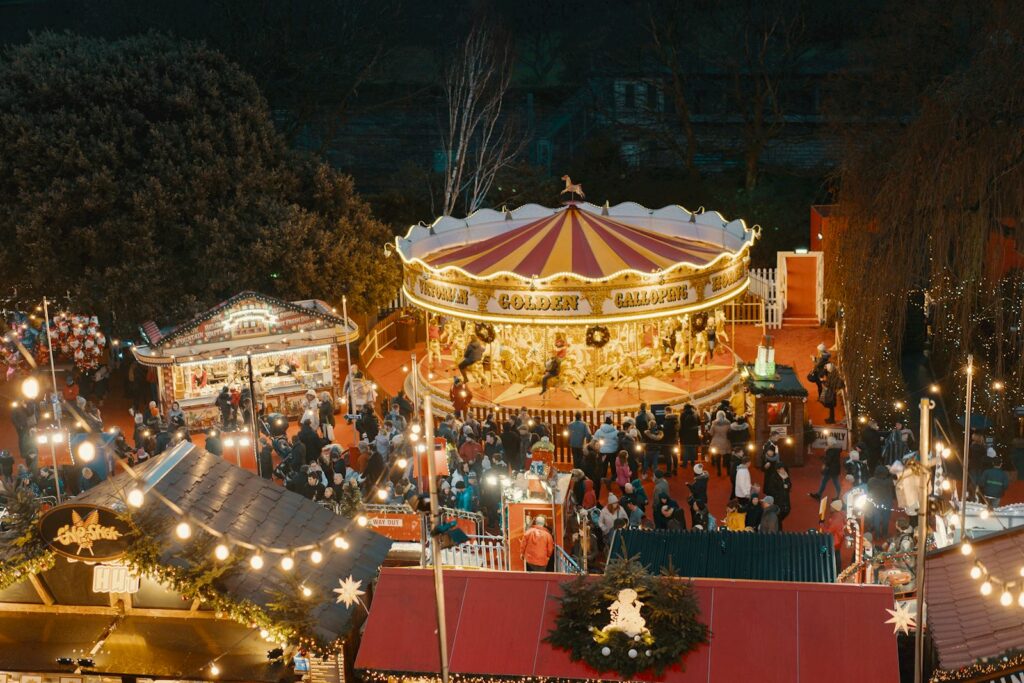 What comes to mind when you think of holiday shopping? Overcrowded parking lots? Long lines at the mall? Instead imagine miles of twinkle lights, festive live music, the smell of mulled wine, and perfectly crafted gifts that anyone on your list would feel blessed to receive. Originating in Germany as Christkindlmarkt (literally Christ Child Market), Christmas markets traditionally are held in the town square late November to late December and have spread across Europe. While many think of summer as the best time to visit Europe, these famous Christmas markets are a huge draw for locals and tourists alike. Here are some of the top reasons why people return year after year to the Christmas markets across Europe.
Get into the Christmas spirit. If you're looking to bring in a festive mood to your holiday season, there really is no place like a Christmas market. Imagine the lights, music, sights, smells and sounds all among a backdrop of beautiful European architecture. Depending on what market you visit, this could include being among the baroque 18th-century Belvedere Palace in Vienna, or perhaps a quintessentially quaint village such as the Maastricht market in the Netherlands. It's a magical experience that you'd be hard-pressed to experience elsewhere. An optimal way to visit several Christmas markets in one week is from a river cruise, ideally on the Rhine or Danube River.
Try some local food. Don't eat before visiting a Christmas market; you'll be able to try some seriously good food from local vendors including sausages, pretzels, soups, roasted chestnuts, and all the desserts you can imagine. If visiting the Munich Christmas market, be sure to try lebkuchen, a gingerbread cookie that's been a local staple since the 14th century. The Erzsebet Square Christmas Fair in Budapest is famous for featuring a wide array of local Hungarian produce.
Authentic gifts. Forget about big-box store gifts, at a Christmas market you can find unique, regional, and handmade gifts including puppets, artwork, candles, and much more. Your loved ones will truly appreciate the thought and authenticity in these gifts. One tip: occasionally gifts marketed as locally crafted might not actually be. Do some label checking and ask the vendor when in doubt.
Mulled wine. This hot, spiced wine is sure to warm you up on a cold, snowy night in Europe. This wine dates back to the 2nd century in Rome and can be found across most Christmas markets. Try it in its original version or consider adding rum or amaretto!
Live music. Listen to choirs and carolers as you stroll down the streets and trails, or partake in some caroling yourself! At most Christmas markets, you'll experience festive live music, whether it's carolers, a one-man acoustic band, or perhaps a folk group featuring regional music styles. There's just something exciting about walking through a market with a glass of mulled wine or other treat, listening to the music.
A perfect day. Visiting a Christmas market can really be a highlight of a European vacation. When visiting, bring cash as several vendors might not accept U.S. credit cards. Nighttime is when the Christmas markets really come alive, but if you want to visit at a slower time, consider late morning. When shopping for souvenirs, we also recommend doing a lap through the market first to see all its offerings before landing on a specific item. Most importantly, have fun and let these unique markets get you into the Christmas spirit!
Skip the shopping mall and experience Christmas at its best in Europe! To learn about winter vacation packages across Europe that include a visit to a Christmas market, contact us today.