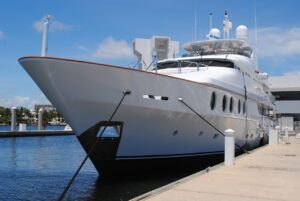 Imagine being in charge of your next cruise experience, surrounded only by your closest family and friends where you get to choose the itinerary. Each day is a new adventure where you can fully appreciate the perfect mix of relaxation, freedom, and adventure all at your own pace. If you think a yacht is out of your price range, you'd be surprised – the cost can be about the same as a stay at a resort or a suite cabin on a cruise. If you've never considered chartering a private yacht, here are some of the top reasons to consider it for your next unforgettable vacation.
Seclusion. Where you choose to explore is only limited by your imagination. Sail on the crystal-clear waters around the U.S. or British Virgin Islands, see the cliffs along Italy's Amalfi Coast or soak in the bright autumn foliage in the Canadian Maritimes. Most yacht charters sail only around 75 to 100 miles per day which gives you ample time to relax, see the sights at your pace, and get access to places that are unavailable to larger ships. Just picture cruising to a secluded beach and diving into the warm water without another soul in sight!
Luxury. Depending on your group's size and needs, we will pair you with the perfect yacht you want to sail on. Yachts typically range from 45 feet to 300 feet in length, from catamarans to super yachts. Most have capacity for about 12 guests plus a full professional staff taking care of all the details. After a rewarding day exploring your chosen destination in exclusive luxury, you'll be able to enjoy all the modern conveniences such as Wi-Fi and well-appointed furnishings. The dedicated chef on board will make sure your favorite wine is in stock for a relaxing evening, and the yacht will be fully equipped with water sports gear so you can decide whether to relax, go into port, or play at sea.
Flexibility. Did you love a spot so much you want to spend another day there? How about a seaside restaurant you want to check out? Simply inform the captain what you want to do and they'll work out the details. You have the freedom to decide almost anything about your trip, something that would be impossible on a larger cruise.
Affordability. When thinking about a private yacht charter, many folks assume it's out of their price range. It's surprising that a fully staffed and supplied catamaran starts at only about $3000 per person per week which is less than many large ship staterooms. If you choose a private yacht tour, we'll consult with you to make sure the all-inclusive details are exactly to your wishes – including all meals, an open bar, port taxes, land excursions, and desired watersports activities.
What people say. Hiring a private yacht for your next vacation may seem like a dream, but it's really within reach! Just think about your own private tour of Croatia, Slovenia, Bosnia, Greece, and other gorgeous destinations. Think about a private gym, a masseuse on board, and plenty of water toys to keep you and your family and friends occupied. Whether you are looking for a land tour visiting the best of Croatia, a unique gastronomic experience, a cultural visit, or perhaps an Adriatic cruise on a luxurious yacht to explore the stunning natural environment and picturesque, quaint Mediterranean towns, we have the expertise to make your experience perfect!
Once aboard your private yacht, you won't have to worry about a thing. Rediscover freedom by setting your own rules on your next vacation and connect with family and friends in a private setting where the only limitation is your imagination! Give us a call today to begin planning this unique and unforgettable experience.