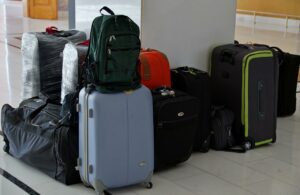 It's a tough reality of travel that your luggage doesn't always get to the same destination that you do. With the surge of folks getting back out there paired with employee shortages, lost luggage is becoming unfortunately more frequent. While still pretty unlikely, there are steps you can take to mitigate the risk that your bag will be lost, and if it happens, some tips to make sure you're reconnected with your luggage as soon as possible. The good news is that it's extremely unlikely the airline will lose your bags permanently but lost bags for even a few days can cause a real headache. Here are our top tips.
Your bags are lost, now what? If you've downloaded your airline's app you might be able to see exactly where your bags are and when they're scheduled to arrive. No matter what, the key is to file a report at the airport before you leave and get paperwork necessary for filing a future claim. Keeping the receipt when checking your bags is important, as are luggage tags to identify your bags both on the outside and inside. Airlines will arrange for couriers to deliver your bags to your destination, but without paperwork you might be left without compensation from the airline or your travel insurance company. In most cases, your bags will arrive on the next flight and be delivered at no additional cost to you assuming you checked in on time. In the rare case that your bags are actually lost for good, there are laws that require airlines to provide $3,800 for domestic flights, but you must document what you packed which can be tricky.
Sometimes your bag will fly with another airline to reach your destination. In our personal experience, calling the local airline desk at your destination airport can help. Sometimes a kind soul will run over to the luggage office to help sort it out. Remember, it wasn't these folks' fault so some politeness might go a long way in getting assistance.
So, what are some ways to mitigate the risk of lost luggage?
Fly direct even if it costs more. Connections just increase the risk of an issue. When a direct flight isn't possible, we recommend at least 90 minutes for a domestic connection and more for international.
Check in early. While you might be able to sprint to the gate in a short timeframe, your luggage has to go through a complex sorting process to arrive at your plane. Last minute check-ins significantly increase the chance of having lost bags.
Carry on when possible. If you can, consider carrying aboard your bags, assuming they meet the airline's size and content requirements. Remember that each child also gets a carry-on, so consolidate as needed. One caveat: many planes' overhead bin spaces fill up well before the whole flight has boarded. If you don't have status with the airline, consider paying for priority boarding which will make sure you can snag some overhead bin space and aren't forced to check a bag last minute at the gate.
Carry on important documents and medication. No matter what, think about the most important items that can't get lost while on your vacation and bring them aboard. You can always buy some clothes at a local store, but medication and personal documents will be difficult if not impossible to replace in short order.
Have travel insurance. Having domestic and international travel insurance will make sure that you're at least compensated for the hassle of having to purchase items while on vacation. Make sure to keep all receipts so you can document your claim upon return. It may take a few weeks for the insurance company to review and provide compensation; the more documentation you have, the quicker it usually goes.
Lost bags, while still relatively rare, are an unfortunate part of traveling. Knowing what to do when it happens and how to lower your risk will help make sure your vacation is as stress free as possible!