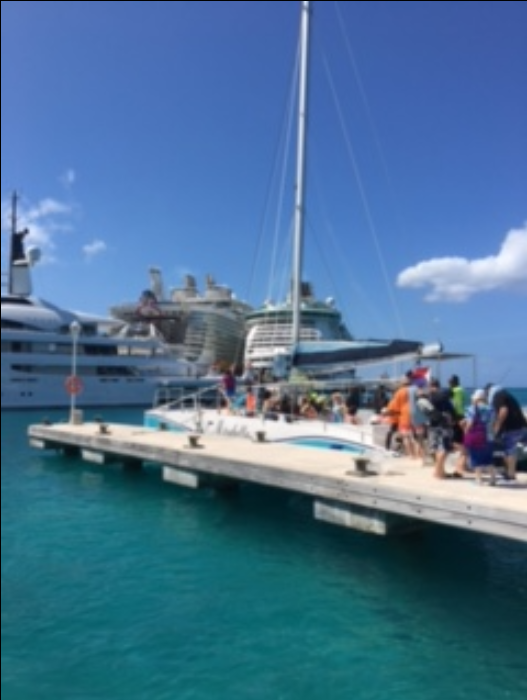 If you've ever let us plan your vacation, you know about the travel insurance conversation and why we always recommend it, especially for trips outside the U.S. Sure, it's only normal to assume that everything will work out just fine and that that you'll never need it. But here's the thing: sometimes you do need it, and that's what this week's article is all about.
For Sunset Vacations client Jean Richardson, a cruise to the eastern Caribbean ended up turning into an emergency.
After selecting dates and the cruise ship, Sunset travel expert Staci Lee went to work creating the perfect trip, with plans made for flights, hotels, and all the other details. As usual, Staci advised that the group purchase travel insurance.
In Jean's words: "All five of us agreed that the trip was enough expense and we all said only a real disaster would prevent us from boarding the ship. You see, it was our understanding that trip insurance reimbursed you only for the travel expense. We had no idea that it covered anything more."
Staci came back to Jean with a second plea to purchase travel insurance and thankfully the group decided to go ahead and purchase it after all.
"Thank goodness she did! I truly don't know what we would have done without the insurance."
The vacation started out easy enough. That area of the world was experiencing West Texas-style winds, causing them to miss the first port of call, but they did have a chance to enjoy a full day in San Juan, Puerto Rico with a rainforest tour and exploration of the island. After Puerto Rico, the ship sailed to St. Maarten. That's when Jean's real adventure began.
"Our day started with an excursion to go snorkeling. It was fun, and we were supposed to have more opportunities to get in the water throughout the day. The catamaran had a restroom below deck and I decided to make a trip down before moving on to our next cove. Even with everyone coming out of the ocean, the deck was dry. The stairs down to the restroom were also dry. But, the floor of the restroom was anything but dry – it was as slick as Jell-O! The second I stepped in the door, my feet flew out from under me and I landed on the floor with no time to do anything but scream."
Jean had broken her hip.
The boat's crew moved swiftly to bring Jean up the stairs to the main deck. After being brought back to the dock, the group was met by members of the port authority to await further help. Jean ended up traveling by ambulance with her husband to a nearby hospital, and the rest of the group (Jean's adult kids) went back to the cruise ship to collect credit cards, passports, and basic toiletries. All the other valuables were put in control of the ship's purser who passed the case along to members of the local port authority who eventually appeared at the hospital in St. Maarten to help. While they hated the thought of leaving Jean and her husband in a foreign country, it was decided that the rest of the group should continue on the cruise, because it was the only reasonable way to get back home. Jean and her husband were therefore left to fend for themselves.
"Although primitive by our standards, the hospital was clean and the staff was very friendly. Most everyone spoke English so communication was not a problem. Once it was determined that the hip was in fact broken, the doctor called in a surgeon. He told me that he was capable of doing the surgery but that it would mean we would be stuck there for a full 2 weeks. It was at his suggestion that plans were made to airlift me back to Ft. Lauderdale where I would have my normal health insurance coverage. Staci and Denise once again became invaluable to us. They helped contact the insurance company and acted as a go-between for the family. They stayed in constant touch with my husband and made the extra step to keep the kids informed of what was happening. Once I arrived in Ft. Lauderdale, my health insurance kicked in and things were handled in the manor we are all accustomed to."
Even still, Jean ended up spending a week at a hospital in Ft. Lauderdale, where she had the normal care with nurses, doctors, and physical therapists. Since Ft. Lauderdale is a common embarkment point for cruises, the hospital staff revealed horror stories of people stuck in foreign countries because they didn't have the travel insurance or tens-of-thousands of dollars in cash to airlift them back to the U.S. Even worse, some foreign hospitals will not let you leave until the bill is paid in full, oftentimes without U.S. health insurance supporting it. Thankfully St. Maarten took their credit card, which had a decent charge limit on it. The travel insurance company later reimbursed them for that expense.
By purchasing the travel insurance, Jean was covered for everything in a timely manner. The insurance company even insisted that a "travel nurse" accompany her back to Texas. While neither Jean nor the doctor thought it was completely necessary, it turned out making their lives much easier. TravelSafe and their emergency partner One Call were easy to work with and always responded to calls from the family, Staci, or Denise. The hardest part of the process was completing the mountain of paperwork required to file the claim.
Jean: "My advice to travelers? DON'T GO ANYWHERE WITHOUT TRAVEL INSURANCE, ESPECIALLY IF TRAVELING OUTSIDE THE UNITED STATES! Also, be sure to have a financial plan just in case something happens and you incur an unexpected expense while traveling."
We couldn't have said it better.
Fortunately, Jean is in recovery mode. Rehab is an intense process, but things are getting better every day. Thanks to Staci really pushing the insurance policy, Jean was able to get the best care possible without spending a literal fortune on foreign hospital bills and airlift costs.
The purpose of this week's article is to show you how travel insurance really is a necessity when you go on vacation. Of course we hope that everything goes smoothly, and usually it does. But when things go wrong, it can make the difference between getting quality care at home and being stuck in a foreign country.
It's not all the time that we get to share a client story in a blog. Many, many thanks to Jean Richardson of Muleshoe, Texas for her time in sharing her story and allowing us to publish it.