Switzerland may be small in size, only slightly larger than Maryland, but it pulls far more than its weight on sightseeing, culture, food, and adventures. Located between Austria, France, Germany and Italy, Switzerland is a diverse country, taking on the various influences while still remaining distinctly Swiss. A visit to Switzerland is a must-do for your European bucket list, and with Denise finishing up her Seven-Night Land Tour of the country this week, we wanted to highlight some top sights to pique your interest for your next getaway.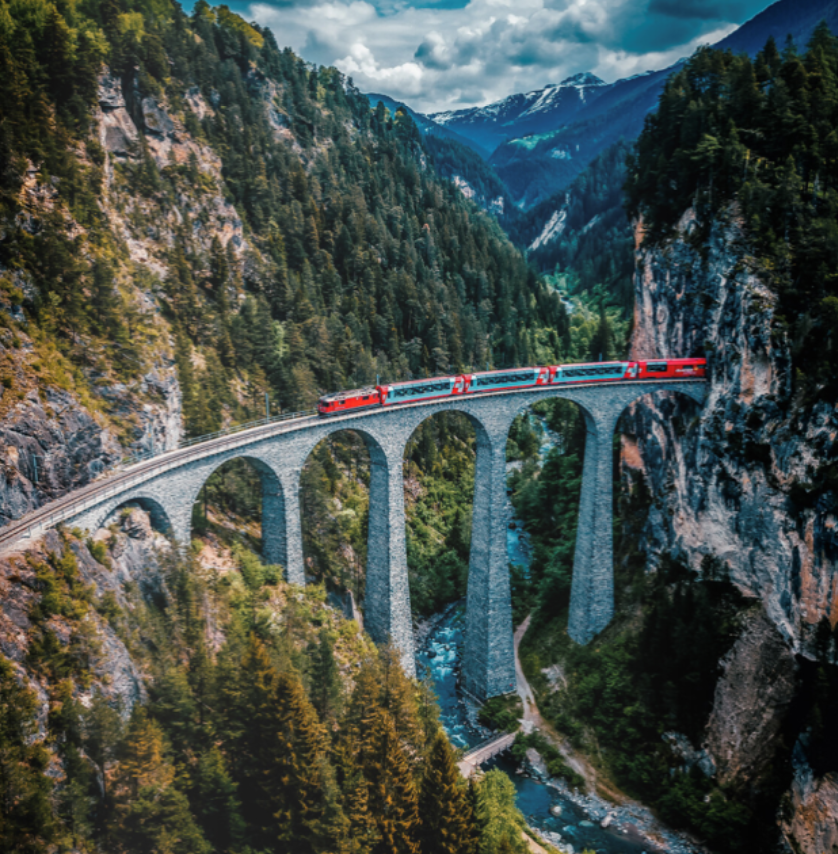 Panoramic Glacier Express. The world-famous Glacier Express is an epic train ride that runs through the Swiss Alps. End-to-end, it's an 8 hour ride between the mountain resorts of Zermatt and St. Moritz, traversing over 291 bridges and through 91 tunnels. Operating year-round, the Glacier Express only runs for 150 miles, with some calling it the "slowest express train in the world." That's not a bad thing, however, as you'll be traveling in first-class luxury over high mountain passes, past glaciers, and through lovely valleys and canyons. The Glacier Express should be on everyone's Switzerland itinerary.
Montreux Riviera. Montreux is a French-speaking resort town located between Lake Geneva, rows and rows of terraced vineyards, and giant mountain peaks. This region has amazing winetasting opportunities and year-round activities in the mountains from hiking trails, skiing, and snowshoeing. This area is known for being quiet and laid-back, yet it also hosts one of the most world-renounced international jazz festivals each July. If you're a foodie, love good music, wine and scenery, Montreux Riviera is a must-see.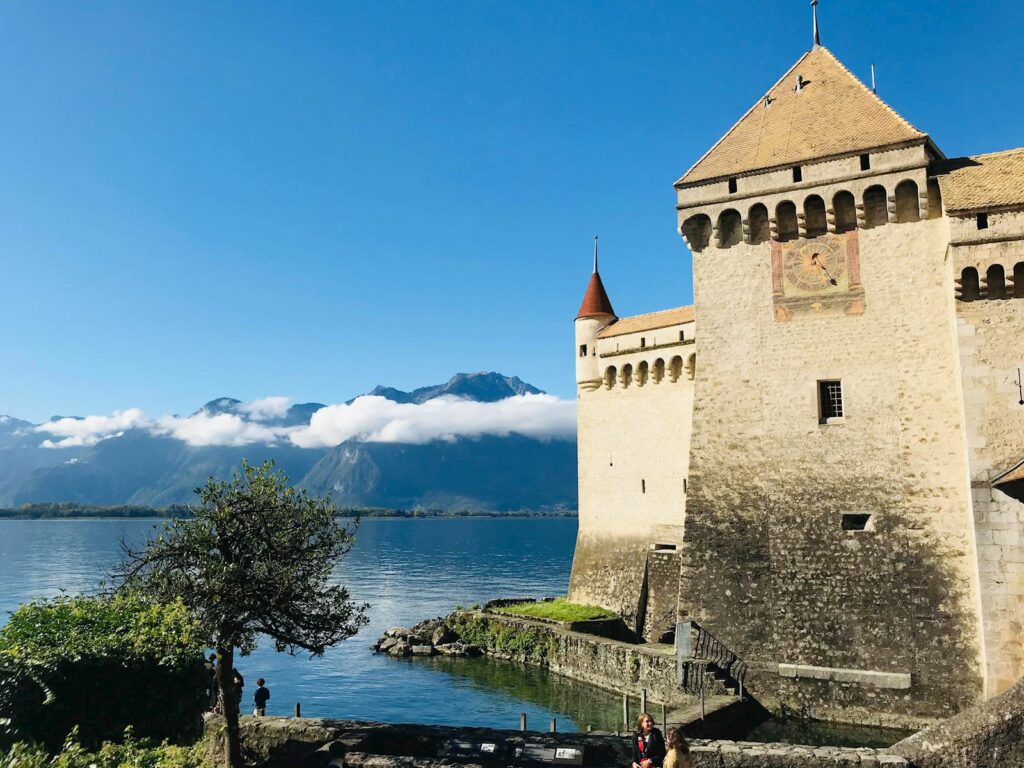 Chillon Castle. Just south of Montreux is the Chillon Castle, an island castle located along Lake Geneva. A visit here will slip you back into the medieval age with stories about nobility and the castle's famous prisoner, Bonivard. It's considered Switzerland's most visited historic monument and tops the list of visited medieval castles across all of Europe. It's a beautiful structure perched on the rocks with towering mountains in the background.
Interlaken. Tucked between two lakes as the name implies, Interlaken is surrounded by world-famous, snow-covered 13,000 foot peaks. It's a very walkable city, with boutique stores and the chance to stroll between the lakes, Brienz and Thun, in about 30 minutes. If traveling in the wintertime, you won't find a more gorgeous place to ski, snowboard, or sled. Interlaken is located near the center of Switzerland, where German is mostly spoken.
With current COVID precautions in place, everyone visiting Switzerland must provide an entry form and either be vaccinated, recently recovered from COVID, or take a test both prior to entry and after. Rules change constantly so contact us for the latest.
The above is just a tiny snapshot of why Switzerland is worth a visit. With Denise's expertise, you'll be able to experience country like a pro! Contact us to begin crafting your next perfect, stress-free getaway.