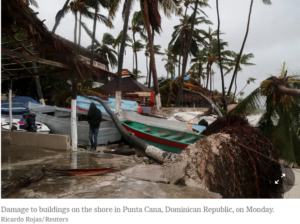 Like many during the pandemic, we were grounded entirely for longer than we liked.
When my husband and I contacted Denise to help us plan a much needed vacation, we said we wanted an All-Inclusive in the Dominican Republic and September worked best for our schedules. She reminded us that it was hurricane season. Honestly we didn't give it a second thought.  Because what were the chances, right? Fast forward after 5 beautiful sun-filled days at Hyatt Zilara Cap Cana, we heard some talk of a hurricane in the Caribbean.  Again, we didn't give it a second thought.
Sunday, September 18th looked like every other day since arriving, beautiful and sunny, with just a little more wind.  We talked at breakfast about Hurricane Fiona, feeling confident we would make our 1:15 pm flight that day with no issues. Right? WRONG! We returned to our room only to see our phones had messages informing us the airline had cancelled our flights. We decided not to panic at this point; we were able to reschedule our flight for the next afternoon, feeling confident again that Hurricane Fiona would not be a big deal for us as a Cat. 1 storm. We spoke with the resort and they moved us to another room since our room was booked for Sunday night.  Not an issue since they gave us a great room at a fair rate.  We let Denise know what was happening and she encouraged us to stay in touch.  We relaxed the rest of the day thinking we would just be dealing with some rain and wind.
Hurricane Fiona hit our resort directly that night. Needless to say we didn't get much sleep.  In the morning when we looked outside, it was very obvious the resort suffered major damage.  The airport was also closed and our Monday flight was cancelled again. We were not overly panicked because we had a place to stay. We had poor cell service; however, the Wi-Fi and power were still going strong. Per resort management, we could stay until we were able to fly home.
This same day at 3 pm things changed. The resort announced that it was not operational due to the assessed damage and that we needed to find another place to go by 5 pm (in 2 hours)!!!  We were now in a panic! We had rescheduled our flight for Thursday, 9/22 but we needed a place to stay for 3 more nights. Every time we called our package supplier's emergency number listed in our documents, the call would drop due to poor cell service. We were in contact with Denise and as soon as she learned of our situation she jumped in and started working to help us.  This was no easy task considering that other Dominican resorts were in the same situation and resorts that had not sustained damage were filled with booked guests and other vacationers fleeing.  She advised us to stay put until she could find something. Thankfully, under the guidance of Denise to be firm in speaking to management, we informed them that we needed to stay one more night. They agreed but we absolutely had to leave the next day, Tuesday by 10 am. We had been stockpiling water and snacks. We had power; we survived.
It's a desperate feeling being in that situation, unable to help yourself and not sure what's going to happen next.   The resort looked like a disaster zone and we were one of the few occupants on our side of the building. It was very eerie at times and honestly a little scary.
That night around 10 pm we received a text message from Denise saying she had secured a resort for us to move to the next day only 30 minutes away where we could stay for 2 nights until our confirmed flight on Thursday.  We had no doubt she would come through for us!
Throughout this process, Denise kept in touch with us and continued to follow up with us until we made it home safely.  Also, we appreciate the companies that Denise uses during our vacations; they always have good customer service and are reliable.  I note this because Denise made arrangements through BD Travel for our airport pick-up and drop-off.  We were able to be in touch with their rep Maria located in our resort and she went out of her way to find us reliable transportation to the new resort and coordinate our new travel arrangements. Despite all the craziness, they were helpful, accommodating, and on time.
During our time after the hurricane, we made it a point to show personal interest and ask the locals how they and their families were affected, if their homes were ok.  Most reported that all was well except for the driver that drove us to our new resort.  He was very nice, but quiet. Something we had not noticed of the locals prior.  My husband asked about his home and family.  He reluctantly told him it was not good; he lived in one of the harder hit towns.  His home flooded, ruining furniture and almost all their clothes and the children's school uniforms.  They also had no running water or power and on top of that, neither he nor his wife worked for three days due to the storm. He mentioned that he went to buy water and only a couple of bottles remained. We had been accumulating water bottles just in case. Altogether we had about 10 or 12; we left them with him and some money.  Speaking to the locals really helped us to remember that they were helping us during a stressful event in our lives while they too were experiencing a stressful event in theirs.
There were moments we were scared and unsure about what to do next but knowing Denise had our backs made a huge difference.  I think of all the families at the resort that found themselves in the same situation but with no one to help them.  We've worked with Denise to plan previous vacations and I have always appreciated her attention to detail and assistance in arranging our trips.  Words cannot express how much we treasured her help during our crazy adventure.
Brianna R. ~ Round Rock, TX