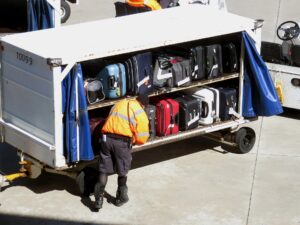 Summer travel season is upon us, and with that comes high demand for flights and a surge in checked bags going through airports. While rare, every time you check a bag there is the risk it won't end up on your plane which can cause a stressful start to any vacation. We always believe in assuming the best but preparing for the worst. This means when you do check a bag, have a carry on that contains items you couldn't go without for several days. Here are some items to never place in checked luggage.
Identification/Travel Documents. All passports, driver licenses, visas, travel insurance policy, printed documents and vouchers plus other important documents should stay with you at all times. Otherwise, if you are separated from your bag, this means potential denial of entry into the country or if traveling domestically not being able to check into hotels or rent a car. Also consider which items in your wallet or purse can be left at home in order to pack lighter. Think library cards, gym memberships, unnecessary and rarely used charge cards. What can you leave safely behind so you wouldn't have to replace these items if separated from them whether you check bags or not?
Medication. Prescription medications are difficult to refill if your bags are lost. If traveling to another state or especially internationally, this likely will require a doctor's visit and even then there is no guarantee that the medication is available or affordable. This also includes contacts lenses and glasses. Being separated from important medication even for a few days isn't worth the risk, especially considering how lightweight and easy it is to toss into your carry-on.
Electronics. Most don't think twice about having their phone with them at all times, but what about laptops, tablets, and phone chargers? Electronics are expensive and fragile and should never be placed in checked luggage. We guarantee you'll be more careful with your items than the bag handler.
Set of clothing. If your flight is delayed, cancelled, or diverted what would you want at the airport or an overnight hotel stay? If you can fit it into your carry-on, consider bringing a change of clothes, some toiletries, and something soft you can roll into a pillow. These are scenarios nobody wants to experience but a little prep work makes a miserable experience slightly more tolerable.
Reusable water bottle. If you're planning on bringing a water bottle on your vacation anyway, it's smart to carry it on board. Throw-away water bottles at airports are overpriced and oftentimes you'll be able to find cold, filtered water for free. Just make sure the bottle is empty until you clear security.
More tips. To lower your risk of a lost bag, make sure to check in early and according to your airline's guidance and book direct flights when possible to avoid snags at connecting airports.  Realize if you're one of the last to board, it's highly likely you'll need to gate check your items so consider paying for an earlier boarding position. Finally, make sure to tag all bags on both the exterior and interior with your contact information in case of a separation. This includes your carry-on bags as well. Recently in our Sunset group to South America, Apple bag tags came in handy when the owner was able to locate his bag in the Santiago airport; let's just say it was in a place one would have never looked! A small investment for "stress-free, peace of mind" travel.
We always like to think on the positive side when traveling, but mishaps inevitably happen. Thinking ahead and preparing for the worst can go a long way in turning a major inconvenience into a minor one.