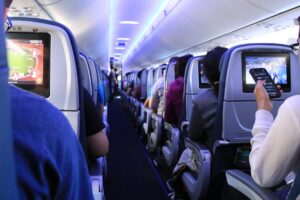 With summer travel just around the corner and air travel demand expected to come back in a big way, a few small steps can make the experience better for everyone. We've all heard of folks making some really bad decisions while flying which can result in jail time and massive fines. A little patience and etiquette go a long way in today's world, and sometimes it feels like even the smallest courtesies have been left behind. Here is part two of our etiquette tips for flying.  You'll find Part ONE, tips 1 to 10 here.
Tip 11: Knowing your space. Let's face it, airplane seats are becoming smaller, and we all have to learn how to get along when traveling by air. Be aware of the space you've been assigned. This means being courteous when sharing the armrest, making sure your carry-on is only beneath the seat directly in front of you, and keeping your legs and body within the seat to the extent possible. Especially for the person in the middle seat, this provides a little extra breathing space that everyone can enjoy.
Tip 12: Agility skills. Given the tight space, an airplane is not the place to practice your agility. If you're in the middle or window seat and need to use the lavatory or get up for any reason, gently tap your seatmates and say "excuse me" rather than trying to climb over them. Use the lavatory after the meal, even if you don't have to go, before most people fall asleep. Also, try to avoid going when flight attendants are serving customers.
Tip 13: Aisle seat etiquette. If seated in the aisle, keep your legs and elbows to yourself for your safety and that of others. Who wants to have their foot run over by the beverage cart or be responsible for someone falling? Also, realize that you're the "gatekeeper" for your seatmates to get up and use the lavatory. When asked to get up, simply and patiently know it's part of your role as the aisle seat passenger.
Tip 14: Kids. Most passengers understand small meltdowns by the kiddos due to being in a cramped space, or air pressures causing ear pain. That said, nothing is amusing about having a child pull someone else's hair or kicking the back of someone's seat. Bring plenty of snacks, toys, and games to keep your little one entertained, and a bottle of milk, juice, or water can help alleviate ear pain.
Tip 15: Always be respectful. No matter what, remember that the flight attendants are there mainly for your safety, not to serve you food and beverages. This is also true with TSA agents. Throughout your journey, showing respect and politeness avoids potential trouble and also is the right thing to do. I know, I know. It would be so nice if they also excelled at customer service in addition to keeping us safe. Sadly, sometimes those two qualities aren't part of the same person.
Tip 16: Don't take matters into your own hands. Let the flight attendant be the bad guy if you encounter someone who is ticking you off or being a danger. The worst thing you could do is have some kind of altercation with the person. Save yourself the hassle and potential trouble and simply press the call button.
Tip 17: Tips to de-board. It's understandable that many folks have tight connections. If the flight is delayed and you need to hurry, ask politely before skipping the line. Regardless, you must also wait for the seatbelt sign to turn off. In general, just be patient, wait your turn, and file out in the order in which you're seated.
Tip 18: Bring headphones. If you want to cancel out the noise of fellow passengers, crying babies, or simply send the signal that you aren't interested in chatting – bring headphones with you. It sends a clear message and also will help you relax in an otherwise tight and stressful space.
Tip 19: Read the instructions/menus ahead of time. Flight attendants are busy and as previously noted, their main purpose is keeping passengers safe, not providing beverage service. Help everyone out by having your order ready ahead of time. Each seat normally comes with a menu card; if you choose to purchase an item have your credit card ready.
Tip 20: Exit row etiquette. It's true that the exit row usually comes with extra legroom, but sitting there also means you are physically able to handle the additional responsibilities. The flight attendant will come by making sure you are eligible and willing to serve in the event of an emergency; take it seriously and read the instructions.
Your flying experience and everyone else's can be better and less stressful when we all adhere to these 20 simple etiquette tips. What remaining tips do you have? Leave us a note on our Facebook page.