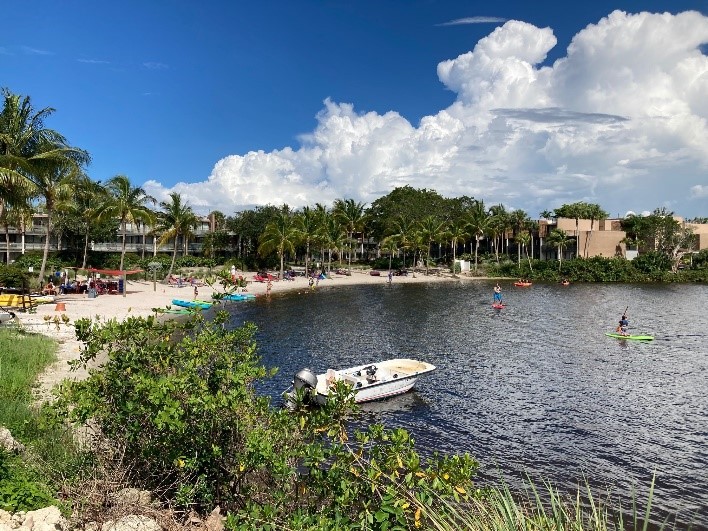 What's it like at the only all-inclusive resort in the U.S.? My wife and I wanted to find out (along with our 2-year-old son) before trying one internationally, so Denise recommended Club Med in Sandpiper Bay, Florida. This was our first time visiting an all-inclusive, and we enjoyed the experience. The property was beautifully landscaped, the food was very tasty, and there were a ton of activities to keep families busy. Here's a run down of our experience as first-time all-inclusive guests.
Transportation. Club Med Sandpiper Bay is in Port St. Lucie, Florida, near the Atlantic coast between West Palm Beach and Orlando. We opted to avoid an expensive rental car and had our transportation included which was reliable. We flew into West Palm Beach and someone was waiting for us at baggage claim. Similar at departure, our ride was at the front desk early, ready to take us to Orlando for the return flight. Transportation can be included from West Palm Beach (the closest airport to the resort), as well as Orlando, Fort Lauderdale, and Miami.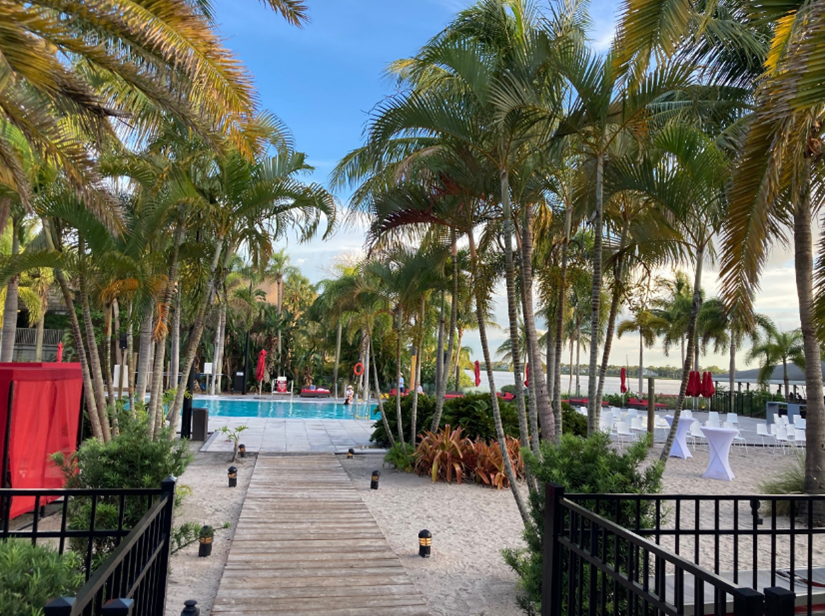 Resort property. Club Med Sandpiper Bay is located in a quiet, seemingly residential part of Port St. Lucie. Note that it is NOT on the ocean. We knew this going in; rather, the resort is set on the shores of the St. Lucie river, more like a large lake than anything. If you crave a real beach, plan to take an Uber for 20 minutes to the Atlantic coast (we found Ubers readily available). Upon arrival, friendly staff checked us in and walked us through all the offerings of the resort. It is beautifully landscaped with palm trees, bamboo, colorful flowers, and beach-like sand.
Activities. This resort is VERY family friendly. I say this because if you're craving a location without kids, this might not be the right fit for you, though there are designated "adults only" areas including an entire pool/bar and separate rooms within the main restaurant. However, if you are looking for a family getaway; this place has something for everyone. The giant trapeze seemed like a real hit (I wasn't brave enough), and there are several pools, tennis courts, a golf course/driving range, miniature golf, yoga, kayaking, boat rentals, and more. The kayaks and other small paddle boats come included; they also have jet skis and other boats for rent at an additional cost. With 6 and up being the primary starting age for many activities, we spent much of our day hanging out in a cabana, under the palm trees by the main pool.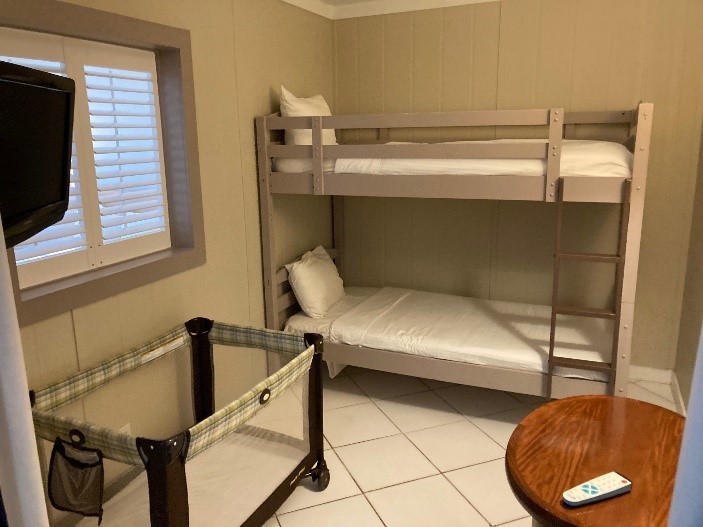 Rooms. Our room overlooked the resort's scenic beach area on the St. Lucie River. The room was large and very well designed including a large walk-in closet area and a much-appreciated separate sleeping area with bunk beds for the kiddo. It was basic but comfortable; the furniture was a bit worn but the room was very clean. We knew from Denise not to expect 5-star luxury, and the room exceeded our expectations. It also included some toddler-friendly amenities including a toilet insert for toilet training. The resort also has wrist bands in lieu of a room key card; this was really convenient to get into the room and it was also connected to our credit card for any additional charges we might incur ($0 in our case).
Food. Not having experienced an international all-inclusive resort, I can't comment on how Sandpiper Bay relates to other properties, but the food was very good, although venues were limited. The main option was buffet-style for breakfast, lunch, and dinner. They also had a small taco/burrito venue for food during off-hours. At the buffet we found a wide selection including fresh salmon, steak, steamed mussels, an ice cream bar, and the regular staples such as chicken nuggets, pizza, and burgers. The churros were our toddler's favorite at the Mexican place.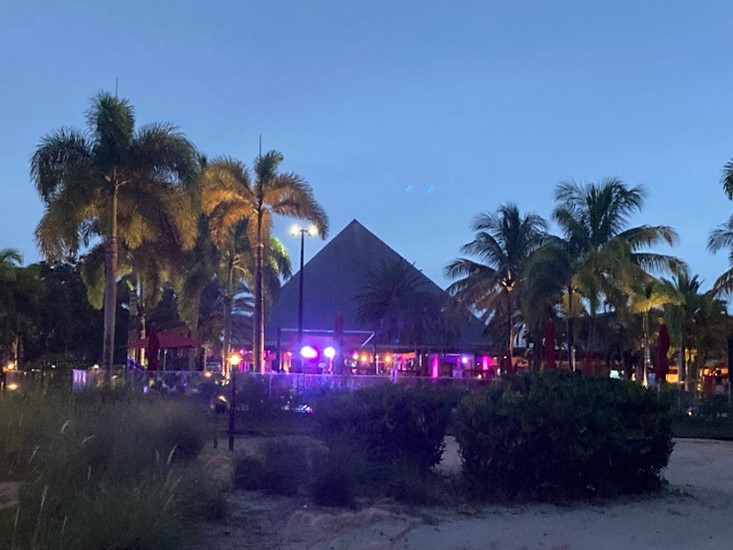 Entertainment. Around happy hour when folks were retreating from the pool area, there was live music each night by the bar. I particularly enjoyed our final night on the property which featured a Reggae band. Drink options were plentiful and complimentary, and the customer service was amazing. In fact, I had lunch with one of the bartenders (Jimmy) and just chatted with him while he was on his lunch break. One thing to note: at least from our room, we could hear the live entertainment until about 10:30pm. So beware of some noise and if bothered by it, choose a room away from the main area.
Summary. This is a great property to relax and unwind, where everything is taken care of. I think Sandpiper Bay would especially be a great vacation spot for families with teenagers, as there are a ton of activities catered to them including a teen night club. You aren't on a beach and the rooms and restaurant choices aren't 5-star luxury. But the property is very well maintained and the staff is amazing! As a side note, we needed to adjust our return flight, and the resort with Denise's help worked with us beyond our expectations or what we asked for. Bottom line, I could see us returning here again for another all-inclusive getaway, especially when our toddler is a little older to partake in all the activities.
I hope this helps paint a picture of our experience at America's only all-inclusive property. If you'd like to visit, contact Denise to get the ball rolling! With her Signature Travel connections with Club Med, you'll be in better hands than your own.