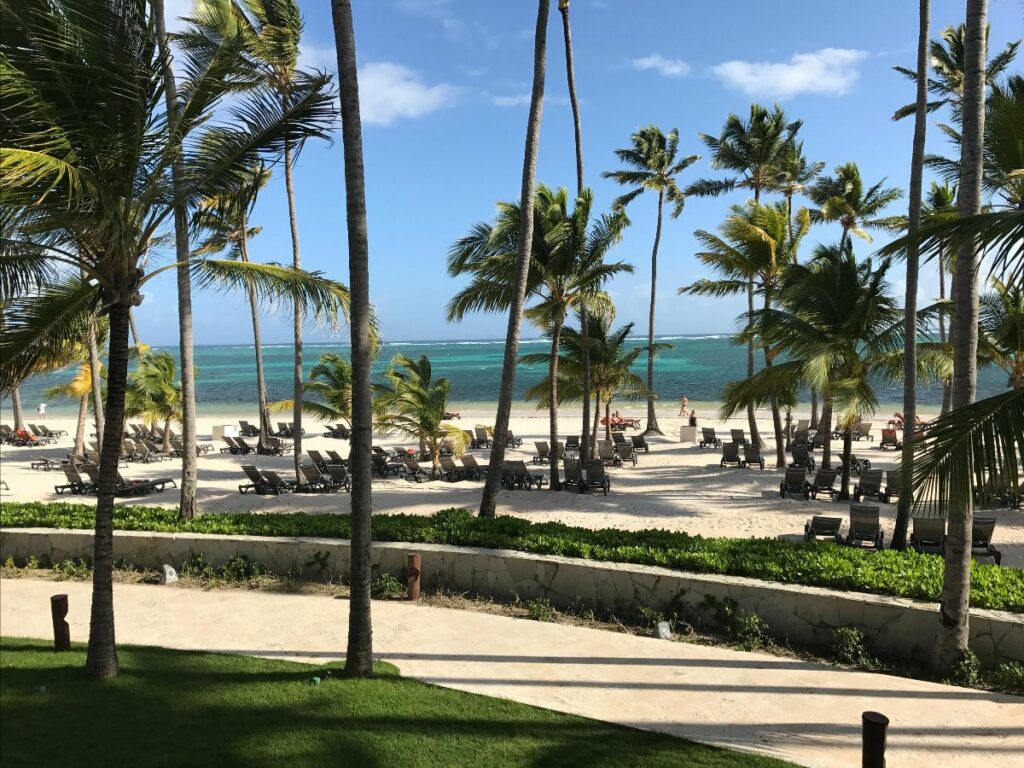 The Dominican Republic is one of the most geographically diverse travel destinations you can find, with gorgeous beaches, impressive mountain peaks, and desert views. It's also opening back up with safety protocols in place and an impressive, free travel insurance program. With top-of-the-line, all-inclusive properties at a good value, endless land and sea activities, and authentic cultural experiences at every turn, it is easy to see why this is the most visited country in the Caribbean. What safety protocols have been implemented and why should the DR be at the top of your list? Read below!
Safety Protocols in Place to Entice Your Visit. The Dominican Republic is open to U.S. visitors and effective September 15th there is no requirement of a negative COVID test prior to arrival. Instead, a five-minute breathalyzer-style test will be performed on a randomly selected group of travelers. If positive, the traveler quarantines in a designated area within his/her hotel and is regularly tested until symptoms are gone. This rapid test is part of the government's initiative called The Plan for the Responsible Recovery of Tourism. This program includes free health and insurance coverage through December 31st that covers hospitalization for coronavirus while in the country as well as telemedicine services, costs for extended hotel stays and airfare changes.
During your vacation you will also see revamped safety procedures, including:
Social distancing and mask requirements, similar to much of the U.S.
A "sanitary bubble" at hotels to ensure that employees stay as long as possible within the facility. This means a team of employees working for two weeks and staying in a designated area of the hotel. At the start of their two-week shifts, employees are required to show a recently administered negative COVID-19 test.
Regular temperature checks and health screening for resort associates.
Reimagined food/beverage offerings and revamped takeout services and room service.
With these protocols in place, here's why the DR should be a top choice:
Beaches. Endless sand with coconut trees towering overhead is what the Dominican Republic is most known for. With over 200 beaches, many of which are uncrowded and undeveloped, you won't have any problem finding a perfect spot to unwind. Punta Cana is the main resort area that features 100 miles of white sand among turquois, warm, and shallow water. Nearby is Macau Beach which is a great place to try surfing. You can even find unique black sand beaches along the southwest shoreline. The Caribbean-facing water will usually be calm and safer for swimming/snorkeling year-round, while the Atlantic side will feature larger waves.
Adventure. The Dominican Republic offers both land and water-based experiences for anyone seeking adventure. One of our favorites is Bavaro Adventure Park. This eco-friendly, 33 acre park is one of its kind in the Caribbean and features a climbing garden, BMX track, zip lines, and miles of ATV trails. Go whale watching, dive among the reefs at Playa Fronton and try windsurfing along the DR's north coast. In the interior mountains known as the Dominican Alps you can hike, mountain bike and even white-water raft – something completely unique for the Caribbean.
Authentic Dominican Culture. Iconic sights are everywhere across the Dominican Republic including many cathedrals and shrines – key in Dominican culture. You can also view the ruins of La Isabela where Columbus built his first and only home on land in the Americas, perched on a cliff above the ocean. Looking for seafood? Try fresh-caught red snapper right off the fishing boats. The Dominican Republic is also famous for festivals and other gatherings including February's month-long Carnival celebration – for when it is safe to gather in large groups again.
With stringent health and safety protocols, now is the time to experience all the Dominican Republic has to offer. Call us today to begin your free travel consultation!