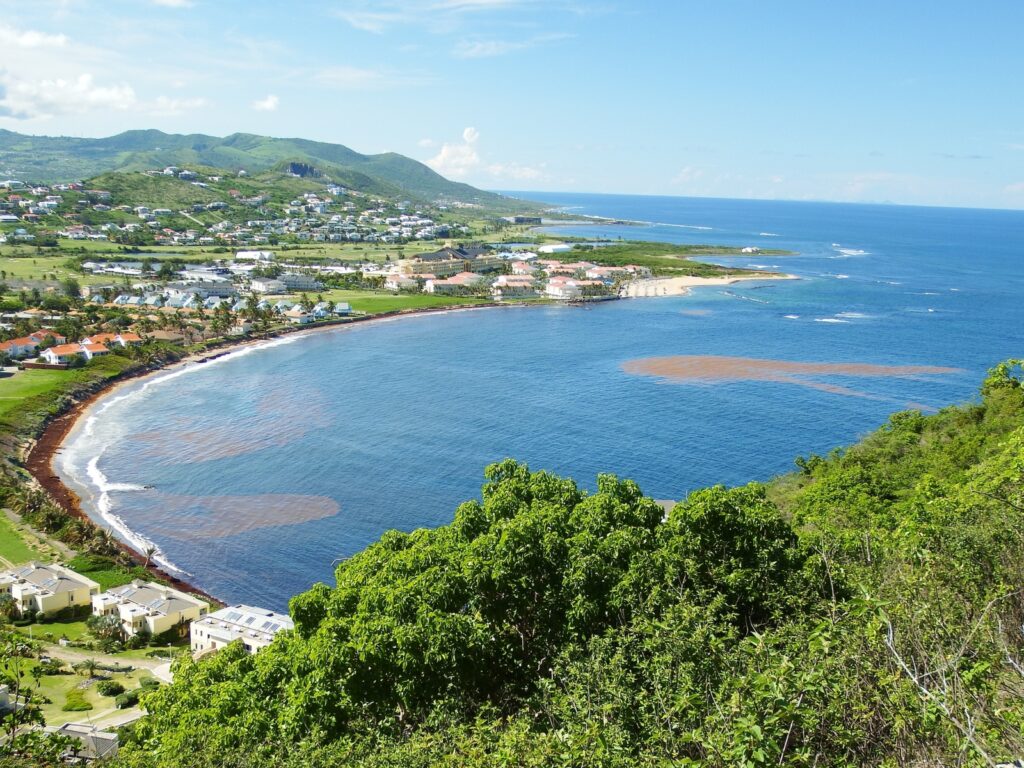 Traveling to Saint Kitts and Nevis is perfect for anyone looking to get away from it all and reconnect with loved ones. This island nation, known as the Federation of Saint Kitts and Nevis is the smallest in the Americas by both size and population. Yet, this tiny paradise offers the ideal mix of action and adventure, paired with never-crowded beaches, to fill your day. It's also easier than ever to get there! Here's what to expect and what to do on your next Saint Kitts and Nevis vacation.
History. The island is steeped in rich history that's just as impressive as its lush scenery. The capital city of Basseterre features examples of Creole and West Indian architecture everywhere you turn. Another must-see is the Brimstone Hill Fortress National Park, featuring one of the oldest and best-preserved colonial structures in the region. Nearly 800 feat high with steep slopes and thick stone walls, it offers sweeping views of the island's mountains and even the neighboring Dutch, English, and French-speaking Caribbean nations.
Dining. Experience fresh seafood and local produce among a variety of casual restaurants fusing Caribbean and Old World traditions. For the largest selection of dining, head to Basseterre on Saint Kitts. Formal dining is found in many hotels, and for the night owls, look to The Strip in Frigate Bay for music, dancing, food, and drinks. If you want a beach hangout, head to Pinney's Beach on Nevis, quieter on weekdays but a popular spot on weekends.
Adventure. The islands may be tiny, but the choice of activity is anything but limited! The geography is volcanic, with large central peaks covered in rainforest, all sloping down to the ocean. There are 196 species of birds on the islands, and even a species of wild monkeys. One of the best ways to experience the scenery and culture is on board the Saint Kitts Scenic Railway. This unique, three-hour ride travels along a 30-miles route that used to transport sugar cane. If you're up for a hike, travel down the Upper Round Road which connected the sugar plantations in the 1600s. A visit to Saint Kitts and Nevis isn't complete without a boat tour onboard a sailboat or fishing charter; snorkeling among the reefs teeming with sea life is a world-class experience.
Relaxation. There is no shortage of long, sandy stretches on Saint Kitts and Nevis. No matter what your beach vibe is, you'll find it here – from more vibrant locales with exciting watersports, to many beaches that are never crowded and are more often than not deserted. If your idea of a vacation is to kick back and relax, or as the locals like to say, "go limin", you really can't go wrong here for a perfect romantic getaway or a chance to reconnect with the whole family.
While it used to take up a whole day getting to Saint Kitts and Nevis, new direct flights from Dallas-Fort Worth make it easier and faster than ever to be on the beach in a matter of hours! If you're looking to reconnect with loved ones and truly get away, the quiet and tranquil paradise of Saint Kitts and Nevis should be on your Caribbean short list.