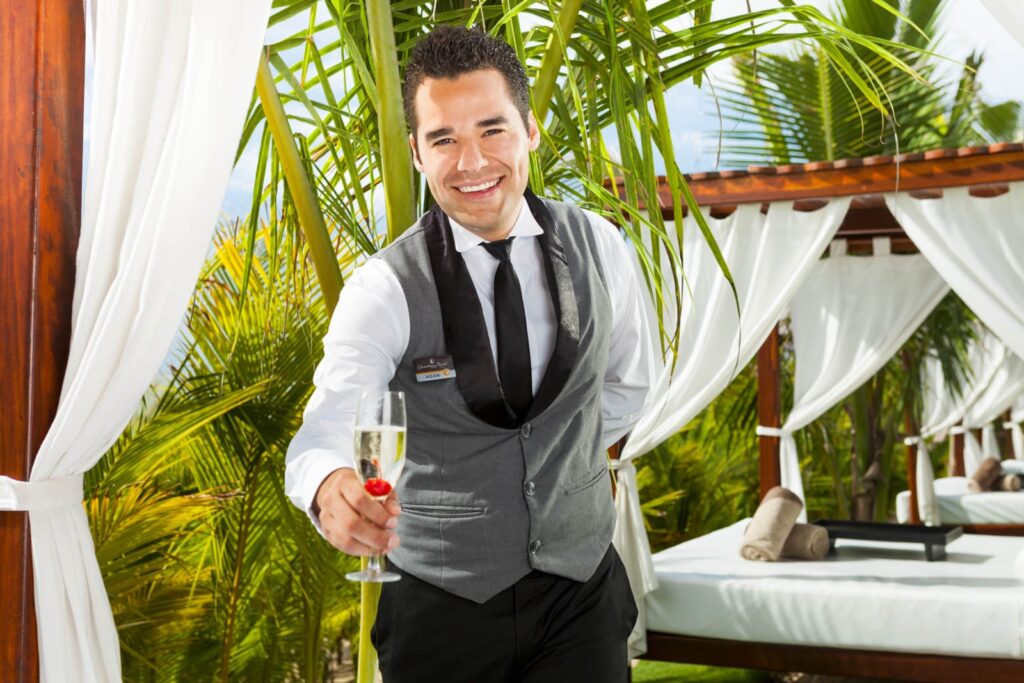 One expense that is commonly overlooked when traveling is tipping. We all know to tip at a restaurant in the U.S., but there are other situations that aren't always so clear, both in the U.S. and especially abroad. Don't let tipping leave you anxious. Here's a rundown of the latest tipping guidelines for great – or not so great – service, and how to tip gracefully.
Airports: In general, no tipping is needed for employees hired by and working for a specific airline. This includes flight attendants, employees at the regular check-in counter, gate agents, pilots, or employees at club lounges. Same goes for folks at the rental car counter. If service is excellent, a friendly compliment is more than enough. On the other hand, you should bring some dollar bills with you for the following circumstances:
Skycap: Unlike the general check-in counter, a skycap is a tipped porter employed at an airport to handle luggage, perform curb side check-in, and assist passengers needing wheelchair assistance. Tipping $2-4 per bag is generally expected. Consider $3-5 per bag for particularly heavy or oversized luggage.
Wheelchair or special needs attendant: At a minimum, tip $2 if they spend minimal time with you. For extra time and attention, including helping you catch a connecting flight, wheeling you to your gate, and taking you on/off the plane, consider up to $20 for their effort depending on the level of service.
Airport shuttle service: If a rental car or remote parking shuttle is helping you load heavy suitcases, or if they were particularly pleasant or give you advice on what to see and do at your destination, it's polite to tip $1-2 per bag. If you've forgotten your dollar bills it's not the end of the world, but tipping for short shuttle rides is still a nice gesture. For longer shuttle rides, around $5 per person is considered polite.
Hotels: In general, the nicer the hotel, the more you should plan to tip for the various services offered.
Arriving and departing: If you arrive by taxi, your driver should receive around 15-20% for good service ($5 minimum), adjusted upward or downward for a particularly pleasant or unpleasant ride. The exception is Uber, where you are given the option but not expected to tip. If you instead use the hotel's valet service, tip when retrieving your car – NOT when dropping it off. Around $2-5 is common.
Concierge: The concierge's job is to give you a map, answer questions, and point you in the right direction. That level of service requires no gratuity. If they go above and beyond, think of tipping guidelines in terms of a hierarchy. A simple dinner reservation might be worth $5-10, but if they pull some strings to get you into a popular restaurant or a sold-out show, $50 isn't unheard of.
Bellhop: It's expected to tip $3-5 per bag, on the lower end for smaller bags and higher for large suitcases. Occasionally you may run into an overly eager bellhop who takes your bags against your objections. If someone takes your bags after you've said "No", then don't feel obligated to tip.
Doorman: For holding the door, no tip is expected. You also don't need to leave a tip if they get you a cab in line. If they actually make a phone call to get you a cab, tip around $2-3 and at least $1 per bag if they help carry your luggage.
Maid: Don't overlook tipping your hotel maid, especially at higher-end resorts (for a basic hotel, tipping is less expected but still welcome). Experts suggest $5 per day, but could be closer to $2 per day if you're the only person in the room and didn't make a mess. Note: since different maids may clean your room each day, it's recommended to leave a tip in a clearly marked envelope daily.
Cruises and tours: This depends a lot on the cruise line. Some cruise lines include gratuity in the cruise fare, but most large ships do not. You can pre-pay the recommended set amount before you cruise or it will be automatically added to your shipboard account. Drinks already have the gratuity added in. If a luxury cruise line has a "no tipping" policy, honor it. You've already tipped in your cruise fare.
For cruise shore excursions and other tours, you should tip your guide $5-25 per person for a half day or full day. For private tours, or if your guide went above and beyond, they deserve to be tipped on the high end. If on a tour bus, tipping a couple of dollars when you are returned to the hotel or port is a nice gesture.
International customs: In many countries the tip is already included when eating out. Look at your bill. If you see charges not familiar, ask before leaving money. Do not tip in a currency foreign to that country unless it is acceptable to do so. In some places, such as Japan, it is considered insulting to tip. As your travel expert, we hand you a report that includes the local custom for tipping in each country.
One more piece of advice: alleviate any anxiety by bringing small bills in the local currency. That way you'll have tip money ready to go and will avoid that uncomfortable feeling of digging around in your wallet or purse and coming up short.
If you have any questions about tipping in specific situations, drop us a note on Facebook or contact us on the website and we'll be happy to help!