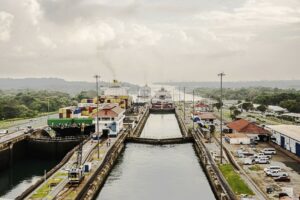 Prior to the Panama Canal opening in 1914, ships wishing to sail from the east coast of the U.S. to the west coast had to make the dangerously long journey around Cape Horn on the southern tip of South America. Through a series of locks and an artificial lake, it's now possible to take a 48-mile journey from Atlantic Ocean to Pacific Ocean within a day or so, which saves an astounding 8,000 miles! The Panama Canal truly is an engineering masterpiece, even by today's standards. It's a once-in-a-lifetime experience to see it up close, with your stateroom just a few feet from the walls of the locks, but perhaps equally enticing are the shore excursions on this ocean-to-ocean adventure. So, what's it really like to sail through this modern marvel?
Canal basics. Whether you start on the Pacific side or the Atlantic, you'll sail through three locks – sort of like a staircase – up 85 feet to Gatun Lake. The sheer power of the locks to raise huge ships is astounding, especially if you are in said ship. Panama Canal cruises are leisurely, and while sailing through the locks and the lake there are endless chances to view the surrounding scenery before crossing to the other ocean. On the day of transit we recommend waking up early and snagging a prime viewing location on the bow or near windows. Bring sunscreen and water to protect yourself from the Panama sun and sit back and soak in the full view.
Cruise options. There are a variety of cruise lines and itineraries that will get you up close to the Panama Canal. The first question is how much time do you have, and what are your sightseeing priorities? If you're looking for a shorter vacation, there are roundtrip options that will generally take you into Gatun Lake and then turn back to your home port. To traverse the entire canal, be prepared to book a 14-day cruise one-way from East Coast to West Cost, or vice versa.  While the Panama Canal may be a highlight (or the highlight) of the journey, itineraries also offer a wide array of shore excursions along the way.
What you'll see. The great thing about this type of trip is you get to check off many bucket list items from both oceans in one fantastic trip. Sound like a trip of a lifetime? There are many itineraries out there, but for example, one east to west option may include excursions in Aruba, Grand Cayman, a scenic cruise through the canal itself, then Costa Rica, Nicaragua, and Cabo San Lucas. Each one of these destinations is worth a trip in itself. You'll pretty much get to do it all – from hanging out on a Caribbean Beach, seeing pristine rainforests (zipline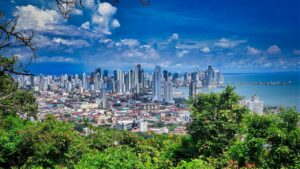 tour, anyone?), visiting historic and attractive cities, and leisurely sailing through the scenic canal and across Gatun Lake while learning about its history and engineering.
Panama City. Don't miss the many sights of beautiful Panama City, where North and South America come together. This city is laid-back, tropical, and historic, with plenty of colorful, cobblestone-laid streets. The most popular attraction is probably Panama Viejo, which is the ruins of the oldest capital in the Americas from the 1500s. The mix of a modern urban metropolis with old-world charm is an experience not to miss.
Take the world's "greatest shortcut" with a Panama Canal cruise! This type of trip is a rite of passage for many, and a trip of a lifetime for anyone. To get started on your next adventure, contact Denise. Itineraries are available including from Galveston, TX but spots are filling fast.