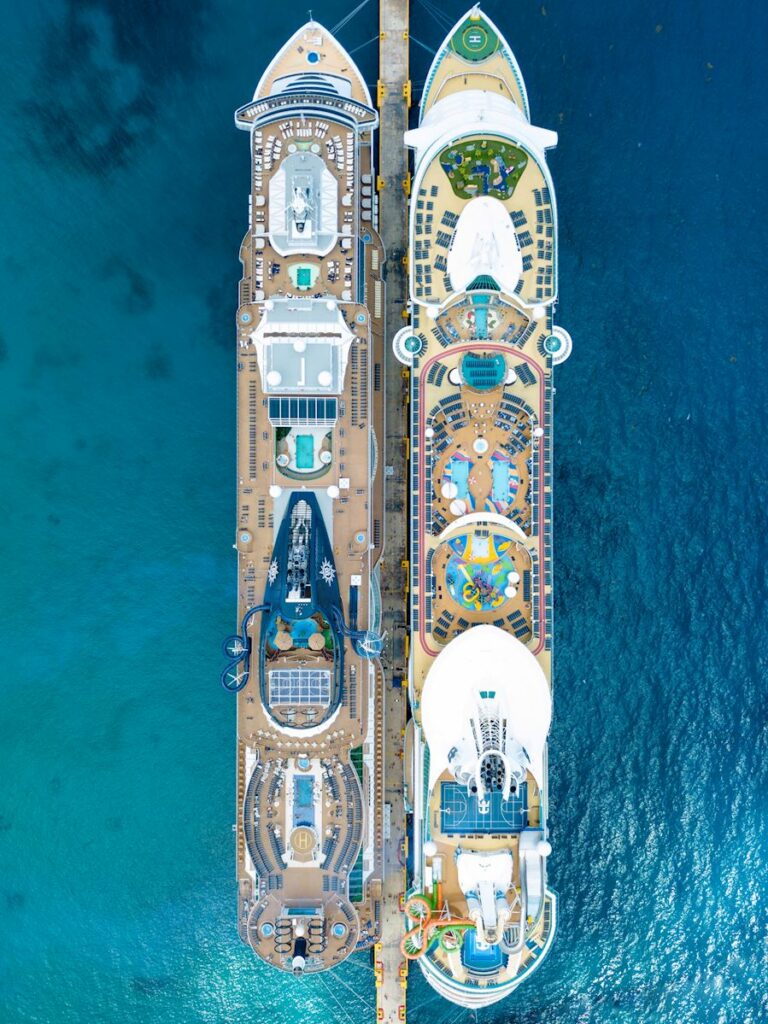 Late summer/early fall is upon us, which means it's time to start thinking about 2020 spring break plans! This year, how about a cruise? Cruising is at the top of our list because it's an economical, convenient, and luxurious way to see the world. The price includes lodging, food, entertainment and transportation, all without having to worry about lugging your suitcase from spot to spot. Plus, the amenities could not be any better and are improving all the time. Before you yell "anchors aweigh," here is what to know.
Tip 1: Utilize an agent. Most people love to search the internet for vacation deals, but a travel agent has access to insider discounts that you do not. Plus their expertise can book you a great cabin at the right price. Are you nervous about seasickness? Do you want to be near the action or in a more secluded section of the ship? By utilizing an agent, you won't need to worry about any unpleasant surprises, and you save time from doing all the research yourself. And if you just like researching and having a part in the planning, research the destinations you wish to visit instead.
Tip 2: Book ASAP. Did you know the best rooms on the ship can book up to two years in advance? Last minute is never the best time to get a good value. Instead, relax knowing you've snagged a perfect stateroom at a good price. If the cruise line lowers prices before your final payment, ask us about a price adjustment.
Tip 3: Join loyalty programs. Spend a few minutes signing up for the cruise line's rewards program. Registration is free, and it opens several perks like free food, onboard discounts, and priority reservations – things that can really add up over the course of a trip or two.
Tip 4: Avoid cruise/flight combos. When you go through an agent, we'll help assess the pros vs. cons of these packages. Typically, though, it costs less to pay your own way to the port as long it is not bundled in a package for free. You'll also have more flexibility on the dates, airline, and times you prefer.
Tip 5: Budget for the extras. Do not be misled by the words "all-inclusive." A cruise will cover your basics, but anything extra costs more unless you've booked certain promotions or with a more "inclusive" cruise line. Make sure to have cash for the casino, a massage, alcohol, specialty dining, land excursions, gratuity, and some forms of entertainment.
Tip 6: Know visa and immunization requirements. Cruise itineraries stop in multiple countries. Be sure to check sites like www.travel.state.gov for travel necessities specific to your destinations. This site can tell you if you need a visa, or if there are any dangerous destination advisories you need to know. A knowledgeable travel agent will assist.
Tip 7: Book your excursions prior to departure. Getting off at the ports-of-call is exciting. This is what you came for, right?! But don't just wing it; the most popular tours can fill up prior to your ship sailing. Since excursions are an investment in your trip, check out the cruise lines' site and see what they offer. Then compare to those offered by your travel agent. At Sunset Vacations we offer tours/excursions for similar pricing BUT with much smaller, more intimate group sizes giving you an experience you'll always remember.
Tip 8: Travel insurance is a must. This one is a no-brainer. When you book things in advance, you never know what might happen. If cruising during hurricane season, you want protection. If there is a death in the family or severe illness plus other covered emergency reasons to cancel, you can get your money back.
Tip 9: Look for cruises switching routes. Year-round cruising is available in the Caribbean and the Mediterranean, but it is not in other areas. You probably did not know that many cruises will reposition going from Europe or Alaska. When they reposition, this is the time to save big. These changes typically happen in Fall and Spring.
Tip 10: Arrive a day early. Plan to arrive at least one day before your cruise departs. It is less stressful, allows you to board more rested, and is necessary due to flight cancelations, delays, mechanical issues and other unforeseen events.
Are you ready to book your cruise? We are here to help you get the most out of your vacation. Contact us today and see what deals we have available.