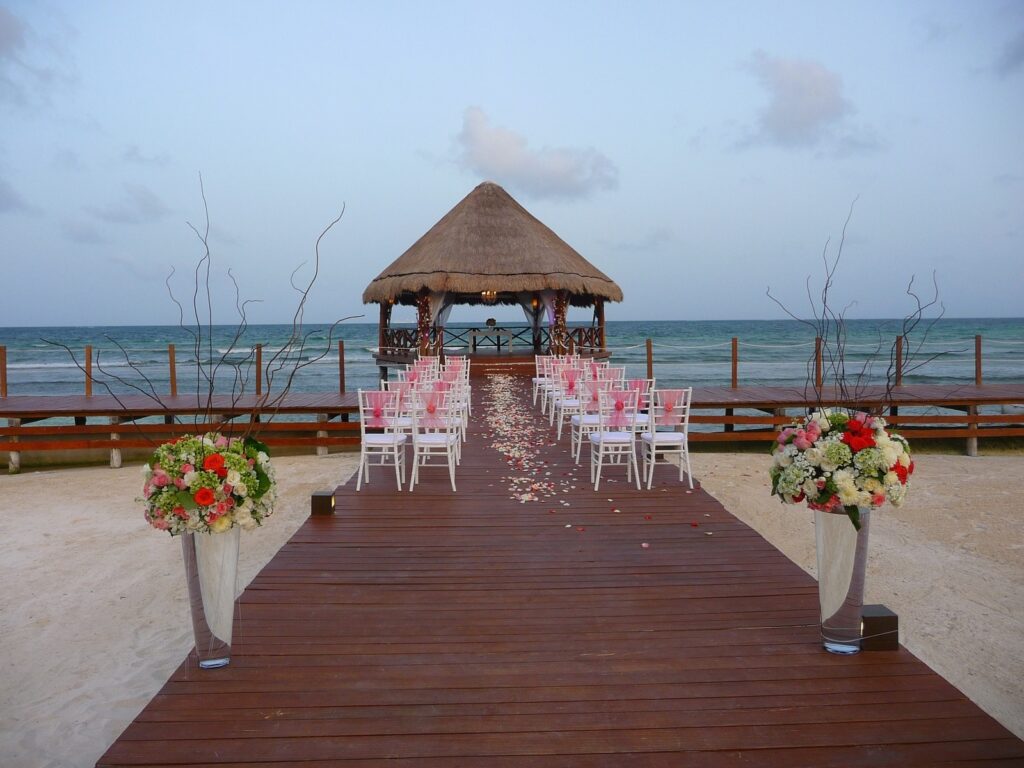 Not long ago, we featured an article describing the top pitfalls of planning a destination wedding. Out of all the things to avoid, we believe the top mistake is taking on the burden of planning everything yourself. Your wedding day should be memorable, surrounded by family and friends at your dream destination. However, by going it alone without a travel professional, you're opening yourself up to a lot of unnecessary stress and risks. Are you knowledgeable of the services we provide when it comes to destination weddings? Don't spend your wedding day stressed out of your mind! Here's how we help couples every day.
A travel agent works for you, not the resort. Do it yourself, and you'll likely be paired with someone who works for the other guy's best interest. Travel experts are familiar with the destination wedding world and can recommend locations and specific properties with the best wedding planners on staff. Just because a resort has a great marketing campaign or looks the prettiest online doesn't mean it's the best for your group. We work hard to understand your top priorities to truly get you a top match.
Another benefit of hiring a travel expert is the added value (and potential cost savings) you'll receive. After the bride and groom narrow their choice down to 2 or 3 properties, we'll bid it out to reputable wholesale operators for the best pricing. A signed contract will spell out the perks they will earn (known as "comps") dependent on the number of rooms booked. Comps can be things like a flight credit, a complimentary cocktail party and savings on their honeymoon stay. It varies, but you'll fare better when we have your best interest at heart (instead of the resort's).
The hassle factor. For no other reason, the removal of stress on your wedding day should be the top reason to have us handle the travel details for your guests. Denise says it best: "Destination weddings are a ton of work, and we love planning them. I can't imagine a bride and groom wanting to take that on!" Just imagine all the details that go into a traditional wedding: the dress, flowers, cake, invitations, food, and so on. When you throw in travel, the details expand exponentially. You need flights for everyone, accomodations, airport transfers, passports, wedding license in another state (or country), plus language barriers. Relying on guests to handle their own travel arrangements is just risky and unhelpful . What if Uncle Charlie books his flight to Houston instead of Honolulu? What if somebody's flight gets cancelled or delayed? You get the point: you'll spend hours and hours fielding guest questions and being their travel agent. Instead, we'll arrange the details so they (and you) call us instead. We'll even tell you what to say on your wedding website and on your "save the date" cards.
We're there every step of the way. Just how extensive is our role in planning a destination wedding? While we look out for our clients throughout the whole process, we realize there are times where a middle man is more of a burden than an asset. Sometimes it actually is easiest for you to work directly with the resort's wedding coordinator than through us on the details of the ceremony, reception and rehearsal dinner. However, if problems arise or the language barrier becomes problematic, we're there to get involved and will step in as a liaison. It's important for your guests to feel like they've had a vacation rather than just going along with yours. To that extent, we'll plan group activities and excursions so everyone can get to know each other and enjoy themselves. And, if some folks want to add on time (before or after the ceremony) for their own vacation, we'll arrange that too.
Destination weddings are one of our favorite things to coordinate. We want everyone attending to remember the good times with family and friends, the beautiful surroundings, etc. Why take on the burden of arranging everything yourself? If you're thinking of a dream destination wedding, the key is to begin planning early. Call us to get started.