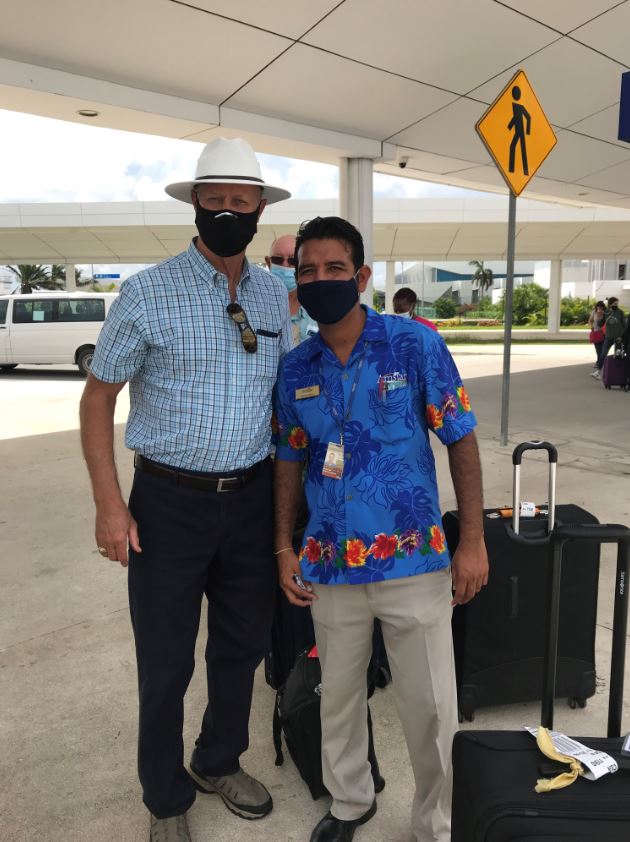 Last week, Tom, I and friends took a fun getaway to relax and unwind on the Rivera Maya. Mexico has been open to visitors since June without having to shut down since. And it was one of the first destinations to adopt the World Travel & Tourism Council's (WTTC) health and hygiene protocols. With this and many reports speaking very highly of the protocols and safety precautions in place, I wanted to check it out for myself. My experience was wonderful, and I look forward to returning. We visited several All-Inclusive properties taking note and observing practices to better understand and help you navigate this style of travel. From start to finish, here are my observations.
Airport. We had a direct flight on American Airlines from DFW to Cancun. Ticket counters and security stations had Plexiglas and social distancing stickers were everywhere on the floor and on gate seats. Face masks were required upon entering the airport and throughout the entire flight. The one exception was going through security; TSA asked us to briefly remove our face covering when showing ID. Hand sanitizer stations were scattered throughout the airport plus we had an ample supply with us to use often when not handwashing. Some but not all restaurants and stores were open, with the same safety procedures in place as elsewhere.
Flight. Due to advanced filtration systems like those used in hospital operating rooms, the chance of getting infected on a flight is extremely low. Most airlines have stopped blocking the middle seat on planes, and ours was no exception as the flight was full. Everyone was wearing a mask and upon boarding we were given a bag containing a small bottle of water, 
cookies and a sanitizing wipe. I brought wipes to clean our seats and surroundings and followed my own recommendations when flying. There was no food/beverage service during flight but it was comfortable and a quick 2.5 hours later, we arrived in Cancun.
Immigration. Upon arrival the Cancun airport was clean and mostly empty. The immigration lines were fast and all employees wore masks. Infrared temperature scanners were discreetly set up as you headed to immigration. We filled out our forms ahead of time online and printed before departing home. Once bags were claimed, only a few people were pulled aside to talk with a customs agent; everyone else exited the airport with very little hassle.
Airport transfer. Getting to and from our resort was an exceptional experience. We had a private transfer for the 4 of us and everyone wore masks. All vehicles are sanitized before, in between services, and at the end of the day. The driver put sanitizer on our hands before we could board.
At the Resort. We stayed at NOW Sapphire in Puerto Morelos about 25 minutes from the airport. In addition, I conducted site inspections at 5 other properties. Here are the common shared safety measures and protocols being followed: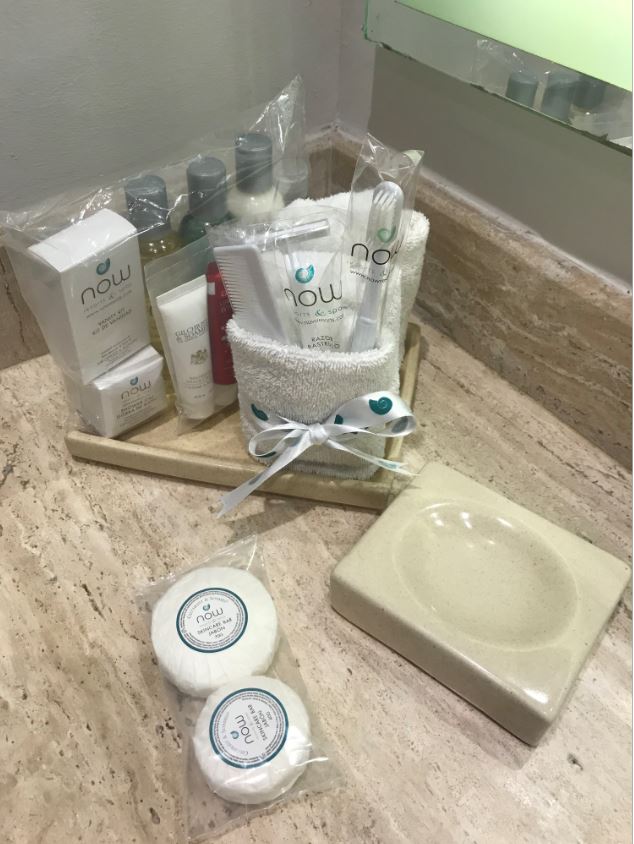 As we exited the vehicle we were met with "Welcome Home", given a pump of sanitizer and a wipe.
Our shoes were sanitized with disinfectant as well as our luggage.
Now Sapphire's cleaning practices are explained here.
Temperature check, mandatory face masks, handwashing, and hand sanitizer use by all staff and promoted to guests. Masks are recommended for guests but not required.
Hand sanitizer stations, bottle in the room, sealed packaging for bath amenities, TV remote, robes/slippers, etc.
Encouraged social distancing with tables spaced 6' apart along with pool chairs, theater chairs, bar stools, etc. I witnessed tables and chairs both being sanitized after each use. Waiters do not touch cutlery; they set the table with tongs.
The buffet restaurant has been changed. It's cafeteria style with staff preparing your plate and handing it to you. Al a carte restaurants operate the same.
QR codes to download all the information needed during our stay including restaurant menus, spa treatments, excursion opportunities and daily resort schedules.
Rearranged and sanitized public spaces with pool and beach deck chairs spaced out and most workout areas reserved by making an appointment.
Departure. The airport was busy but people were masked and socially distanced to the extent possible. Upon leaving, we had to fill out a health questionnaire by QR code or from the airport's website. There was also a paper copy available when technical issues cause a problem, which happened to me and others. Once through security, there was plenty of distance while waiting on the flight back to DFW.
After seeing the safety protocols in place throughout my trip, I feel confident recommending Cancun/Riviera Maya for anyone looking to unwind. Reservations can be made through 2021. We had a wonderful time, and I would not hesitate to return seeing personally the care Mexican resorts are taking to keep their guests safe.
Do you have questions or comments about traveling in this new environment? Email Denise or send us a note on our Facebook page!